Spojené srdcia plné lásky odovzdali radosť a úsmev deťom…
Dlho očakávaný HH sa predsa len konal. Z vianočného sa stal valentínsky, ale podstata ostala rovnaká. Charitatívny rozmer s cieľom obdarovať deti z detského domova. Tento HH nielenže sa svojím charakterom odlišoval od ostatných, ale aj pre mňa bola veľká zmena dostať sa tam. Približne pred troma týždňami som na chvíľku zmenila svoje pôsobenie a z východu som sa presunula priamo do Bratislavy. Do poslednej chvíle som ani len netušila, či sa tam vôbec dostanem. Keďže som si nebola istá, ale predsa som len dúfala, vzala som si so sebou z domu všetko, čo je podstatné pri HH. Teda celú svoju základnú výbavu a na tú špecifickú som čakala. Našťastie nebola až taká zložitá a dokázala som si ju zaobstarať deň predtým. Okrem klasickej výbavy, ktorú tvorí čelovka, bufka, pocket knife, rukavice, duck tape a paracord, som si tentokrát ešte dobalila čokoládu, červenú ružu a vrece s kamienkami v celkovej hmotnosti 15 kg. Najdôležitejšou výbavou bol darček, ktorý mohol byť akýkoľvek, len so špecifikáciou čo sa týkala rozmeru – 20×20 cm.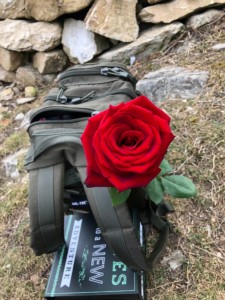 Príprava na tento hurikán bola trošku iná ako zvyčajne býva doma. Tešila som sa, no boli aj zmiešané pocity. Čo už. Dala som na zmenu, tak si ju teda aj užívam. Odvoz do Jelenca som si nakoniec našla, takže všetky moje obavy sa rozplynuli a ja som sa mohla pripraviť. Vstávala som skoro ráno, tak ako stále pred akýmikoľvek pretekmi. Jednoducho stále aj po toľkých rokoch mám pred každým pretekom takú, akoby mini trému. Tak isto aj teraz prežívam zvláštny pocit, keď píšem tieto riadky. Nie som vo svojom prostredí, nie som za svojím stolom, nemám svoj komfortný pocit. No povedala som si, že je to niečo, čo ma robí šťastnou, tak aj napriek tomu, kde a v akých podmienkach sa nachádzam, predsa len si nájdem čas na pár riadkov, nech to stojí akýkoľvek nekomfort.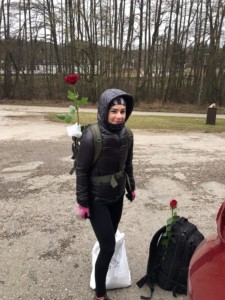 Cesta nám ubehla celkom rýchlo. Keďže som sa nepripravovala doma, trošku som podcenila výbavu týkajúcu sa oblečenia. Našťastie som si ráno hodila do vaku aj vetrovku a ešte jedny legíny. Dobre som spravila, lebo ako náhle sme dorazili na miesto určenia a vystúpili z auta, vedela som, že dnes to bude o zimomriavkách. Pred odchodom na miesto stretnutia ešte pred registráciou na hrad Gýmeš, ktorý sa nachádzal v oblasti Tríbeč, som sa rozhodla obliecť si všetko, čo som mala so sebou. Vo vetrovke v dvoch legínach, s ružou zapichnutou vo vaku a darčekom vo vnútri, si hádžem svoj sandbag na chrbát a vyrážame na rannú turistiku. Čakala nás cesta dlhá 3,5 km. Trvalo nám to približne hodinu. Poriadne sme sa zahriali, kým sme vyšliapali hore. Cestou som vyriešila menší problém so sandbagom a nakoniec som si ho prehodila do vaku a darček som niesla v rukách. Na registráciu sme prišli ešte s polhodinovým predstihom.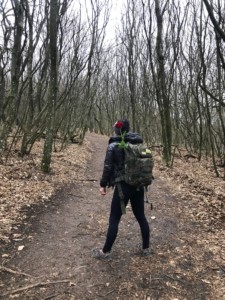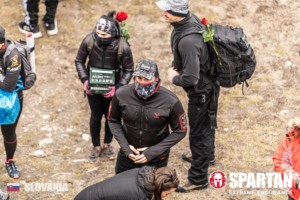 Bolo milé vidieť známe tváre, pozdravili sme sa, no všetkým nám tam bola zima. Vietor nás teda nešetril a my sme stále nevideli čiernu endurance vlajku. Až po chvíli dorazila Krypteia so svojim tímom. Registrácia sa konala hore na hrade. Dnes som vyfasovala číslo 2 a bola som v tíme B. Teším sa z toho, po mojej pravej strane stál Tomáš, s ktorým som prišla autom a po ľavej strane veselá a stále usmievavá Vierka, ktorá sa odhodlala na svoj prvý HH.  Predtým si drill master vyberá z ľudí, ktorí majú už registráciu za sebou, pár tých, ktorých skúša warrior ethos. Nastáva otvorenie eventu a kontrola gear listu. Začíname pekne pozvoľna a prechádzame k rozcvičke. Ku koncu sa všetci snažíme spraviť jeden spoločný angličák. Bolo to celkom zaujímavé, nakoľko som toľko ľudí ešte na hurikáne nezažila. Bolo nás niečo okolo osemdesiat. Po spoločnom jedinom angličáku, ktorý sme opakovali viackrát, sa začíname po tímoch postupne presúvať dole. Najprv však dostávame inštrukcie, že darčeku a ruži sa nesmie nič stať. Nesmieme ju stratiť, alebo nejako zničiť. Ešte pred odchodom si vyberám z vaku sandbag a darček si predsa len dávam dnu. Vravím si, že to nosenie nejako vydržím. Pred presunom dole nás čakala prvá tímová práca, kedy sme mali spoločne z nás všetkých účastníkov vytvoriť srdce, kde sme držali svoju ružu v ruke.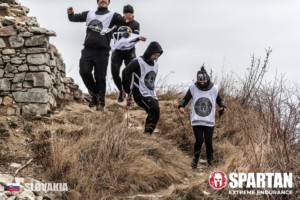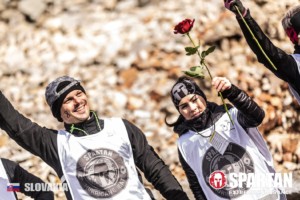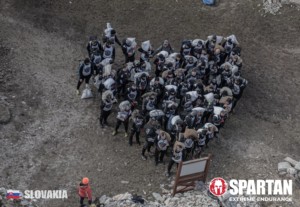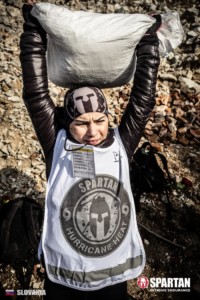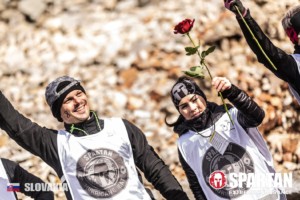 Miestami fúkal vetrisko, no miestami sme mali krásne počasie a slnko nám svietilo na cestu postupne dolu, keď sme ako tímy robili úlohy. Kráčali sme v zástupe dole vo výpadoch so sandbagom na chrbte. Zima mi určite nebola, no dať si dole aspoň jednu vec bola nereálna asi tak, ako sa počas hurikánu aspoň trošičku napiť. Krypteia nás teda nešetrila. Kým sme zišli dole, zoraďovali sme sa jeden vedľa druhého a robili zástupy. V tejto zostave sme vykonávali individuálnu výzvu. Prvá znela: výdrž v podrepe so sandbagom v rukách. Nevedeli sme, ako dlho budeme držať. Jednoducho ten, kto nevládze, mal sa posadiť. Vydržala som a dostala som bod. Potešila som sa. Druhá výzva znela: vybrať si svoju čokoládu a opäť raz výdrž v podrepe, ale s čokoládou v rukách nad hlavou. Stehná ma pálili, no vydržala som aj toto. A do tretice posledná výzva: výdrž v podrepe so svojou ružou s vystretými rukami pred sebou. Aj táto sa mi podarila a tak som získala všetky tri body. Pokriky warrior ethos sa ozývali Tríbečom. Jedna výzva striedala druhú. Tentokrát sme mali tímovú výzvu. Mali sme z miest, kde sme robili tieto výzvy rozdeliť sa opäť podľa tímov a zobrať svoje sandbagy a odniesť ich behom na miesto určenia, potom sa vrátiť pre zvyšné veci a tím, ktorý bude rýchlejší, vyhrá. Tím B vyhral. Boli sme síce prvý, ale niektorým chýbali kúsky vybavenia v podobe batohu a podobne. Nakoniec bod dostal aj tím A, hoci neboli prvý, ale každý z nich mal všetko vybavenie.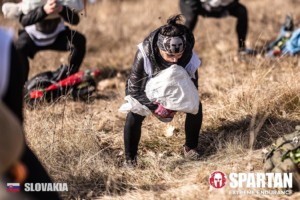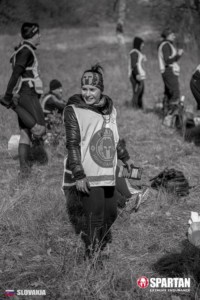 Postupne sme schádzali dole rôznymi štýlmi. Raz pospiatku, raz s bufkou na tvári, kde nás viedol len tím líder rôznym terénom. Ako sme takto kráčali v rade za sebou, každý každému ďalej podával informácie, aký terén máme pred sebou, zákruta vpravo, vľavo. Tak sme sa pekne hrali až sme došli na jedno krásne miesto, kde veru dosť fúkalo, no spravili sme si krásnu fotku a potom sme rýchlo utekali pre svoje batohy, ruže a sandbagy. Nasledovala ďalšia cesta dole. Ružu som stále nosila zapichnutú za pútkom batohu okolo pása. Jedine tak som videla na ružu a mohla ju ochrániť pred polámaním. Pár lupienkov už je veru chýbalo, no stále bola celá. Užili sme si aj funny time v podobe kráčania dole so sandbagmi na chrbte, no predtým však sme si všetci ako jeden tím mali vybrať jednu pieseň, ktorú každý pozná. V tíme sme mali Maďarov, Poliakov, Rakúšanku, tak sme sa nakoniec zhodli, že pieseň happy birthday pozná každý. Tak sme si ju zasievali, no spievali sme ju dookola a dookola. Ak sa Kryptei nepozdával náš rytmus, lebo postupne sme sa všetci akosi rozladili, robili sme angličáky. Postupne sa blížili dole k jazeru, kde nás už mali čakať deti, ktorým sme mali odovzdať naše darčeky. Dali sme si ešte mini beh so sandbagom a boli sme dole a potom ešte jeden a boli sme pri jazere. Tam sme si nastúpili a čakali, čo sa bude diať. Ku koncu hurikánu zostávala asi ešte hodina. Absolvovali sme spoločnú rozcvičku s deťmi. Potom deti súťažili a behali pomedzi nás, kde sme stále v približne rovnakých rozostupoch. Postupne nám vyzbierali ruže z rúk, neskôr aj čokolády. Po vyzbieraní ruží, dostali deti úlohu, ktorú sme my nevedeli a my sme na oblátku mali robiť sto angličákov a sto drepov s výskokom na striedačku po desať opakovaní. Keďže deti zvládli svoju úlohu skôr ako my, tak Krypteia rozhodla, že už nemusíme robiť. A prichádza záver tohto všetkého. Posledná vec, ktorá nám ostala, bol darček pre deti. Keďže len my sme vedeli, čo sa v krabičkách nachádza, každý z nás si zvolil dieťa, ktorému svoj darček odovzdá. V mojom bol taký mix, no hodil sa skôr pre staršie dievča. Dúfala som, že nájdem to správne. Hneď ako som sa k ním blížila, oči mi padli práve na ňu a s veľkou radosťou som jej odovzdala darček. Toto bol najkrajší pocit z celého hurikánu. Po obdarovaní som sa cítila neskutočne príjemne. Potešená som ostala aj potom, čo sme dostali špeciálnu nášivku so srdiečkom. Tejto som sa naozaj potešila a vlastne všetkému, čo som na záver dostala.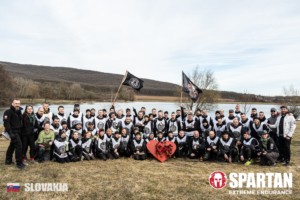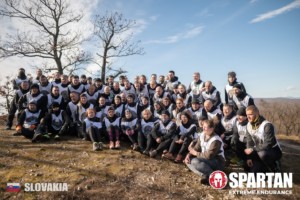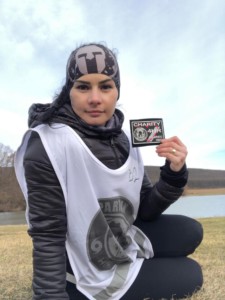 V závere som si uvedomila, že som šťastnou ženou. Mám šťastie, že svoje deti mám a moje deti majú šťastie, že majú svojich rodičov. Nie všetci môžu mať takéto šťastie. Ak takýto darček týmto deťom vyčarí úsmev na tvári a spraví ich to šťastnými, potom to jednoznačne malo zmysel. Čím viac dáš, tým viac dostaneš.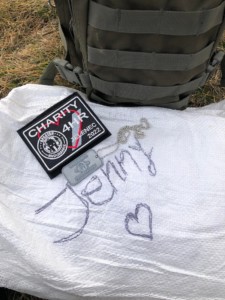 @jenny