Za novým dobrodružstvom som sa vybrala už v piatok skoro ráno vlakom smerom do Púchova. Prvá prekážka, ktorú som zdolávala bolo však ráno vstať a stihnúť vlak o 4:30. Od Spartana v Salgótarjáne som si povedala, že sa budem snažiť trénovať, čo najviac. No napokon som stihla asi len tri bežecké tréningy a doma trošku mini tréningov s vlastnou váhou. Najviac som sa však naťahovala a pravidelne som cvičila jógu. Takže som sa tréningovej príprave nevenovala, tak ako som prvoplánovo chcela. Ale späť k tým "predzávodným prekážkam". Absolvovala som únavnú cestu preplneným vlakom. Jednu výhodu som však predsa len mala a to bola moja výška, lebo som sa aj s kufrom a s vakom všade vopchala a uložila aj bez toho, aby som musela kufor vykladať hore, čo samozrejme nie je možné, lebo tam nedotiahnem. Okolo obeda som bola v Púchove, odkiaľ začínala cesta autom až na Dolní Moravu. V mysli som si premietala, všetko oblečenie, ktoré som si zbalila. Tajne som však dúfala, že nebude príliš veľká zima, hoci do poslednej chvíle predpoveď počasia bola chladivá. A tak v piatok večer nastáva mentálna príprava a príprava oblečenia na sobotňajší beast. Stávam skoro ráno  a vychádzam do mrazivého rána. Už o 6:15 som vo festivalke, nie preto, že som musela, ale Vierka a Jaro,  ktorí ma viezli autom a aj sme boli spolu ubytovaní, robili dobrovoľníkov. Od zamrznutých nôh ma zachránili výhrevné vankúšiky v topánkach. Trošku dlhšie blúdim vo festivalke, pozorujem, rozmýšľam, či si predsa len neprehodím čas štartu. Pôvodne som mala štartovať o 10:40. No vravím si, že to je dlhý čas sa takto provokovať a nebežať. Tak sa mi nakoniec podarilo štartovať o 8:20 v age group. Na prípravu som mala cca 15 minút. Taká moja klasika, všetko na poslednú chvíľu. Na poslednú chvíľu WC, na poslednú chvíľu som schmatla bundu, lebo v oblečení, v ktorom som chcela pôvodne štartovať bolo veľmi chladno, na poslednú chvíľu som vstúpila do štartovacieho koridoru. Bežím na štart a na hodinkách vidím čas 8:19:58…. v poslednej sekunde mi kontrolujú náramok s časom a preskakujem stenu, keď už všetci odštartovali. Ale čo je hlavné, stihla som to. Bolo to divné, len tak sama na štarte, ľudia na mňa pozerajú, ja si nastavujem hodinky, lebo ani to som nestihla. A nakoniec som prišla na to, že za to môže moja hodinka, lebo ide minútu pozadu. Uf, konečne som sa trati, no pretekárov predo mnou sa mi nedarí dobehnúť. Hneď stúpame do kopca. Zatiaľ mi veľká zima nebola, ale bunda okolo pásu je moja istota. Počasie nevyzerá prívetivo. Čaká ma prvá prekážka hurdles, s ktorou som sa popasovala a hneď nasleduje ballance, ktorý som neprešla. Na to, aby ho niekto zdolal potreboval zvláštne schopnosti. Šmýkal sa a bola na ňom námraza. To radšej rýchlo z hľadiska bezpečnosti a ochrany vlastného zdravia skáčem s radosťou angličáky. A veru mi aj pomohli sa ďalej rozohriať a pokračovať ďalej. Už som nebola posledná. Podarilo sa mi začleniť do svojej vlny. Uvedomujem si, že mám červenú čelenku a tak som veľmi chcela podať čo možno najlepší výkon. No už krátko po vybehnutí som cítila, že moje telo sa trápi a že sa mi nedarí rozbehnúť to tak, ako by som si priala. Myslím, že veľa urobilo aj počasie a hlavne môj nedostatočný spánok pred pretekmi a nedostatočná strava a množstvo úloh, ktoré som si zobrala na hlavu. Aj keď som tajne dúfala, že sa mi to podarí rozbehnúť, nebolo tomu tak. Prichádzam k memory testu –  D39YMJ. Túto pasáž pretekov mám rada, vtedy je každý ticho a sústredí sa na zapamätanie sa kódu. Čaká nás dlhší bežecký úsek bez prekážky, kde ma stále ktosi obehuje a ja cítim, že nie som na tom dobre. Hlava ma chcela dať dole, že som slabá, ale ja som si vravela, že ešte predsa len potrebujem čas a potom ja niekoho predbehnem. Prichádzam k olympusu, ktorý som nedala, lebo sa všetko šmýkalo, ale nevadilo mi to, rada som si odskákala, lebo som sa takto udržiavala v teple. Hoci na ruky mi bola zima, lebo zem bola primrznutá. Ďalej bežím a bežím, nohy nechcú spolupracovať. Miestami som sa nudila, lebo všetko mi prišlo také zdĺhavé, pomalé, ešte aj to počasie do toho. Bola hmla, nevidela som na vzdialenejšie okolie a také to bolo celé ponuré. Dostávam sa k benderu. Nemávam s touto prekážkou problém, lebo vyskočím, zachytím sa tyče a idem. No teraz prichádzam na miesto, kde na žinenke je sneh, na tyčiach je námraza a ľad a všetko sa šmýka. Na možno ôsmy neúspešný pokus o zachytenie sa na tyči, ktorá bola vysoko, som to vzdala a šla skákať. Na občerstvovačkách som ani len nebola. Stačilo mi, keď som videla na povrchu zamrzajúcu vodu. Mám tu ešte len začiatok a už 90 burpees, ktoré sa mi navýšili ešte na slack line, na oštepe 2x, na twisteri, na beatri… a tak ďalej.  Predtým však ma čakal sandbag. Pozerám, že akosi zvláštne chodia ľudia, raz dole, hore, dole a hore. No nebola som si istá, či idem správne po vyznačenej trati. Myslela som, že snáď im vietor rozfúkal pásku. No išla som, ako som videla ako idú ostatní. Bundu som stále nemala oblečenú, no počasie nevyzeralo ružovo. Tým, že bola mierna hmla ani som si neuvedomila, čo ma bude teraz čakať. Po zložení sandbagu som sa pozrela, kde nasleduje trasa. Bože môj. Hore zjazdovkou, strmým kopcom, je mi zima, som hladná a koniec pre hmlu nie je vidieť. Nohy som mala ťažké, neskutočne ťažké, vôbec som sa nerozbehla.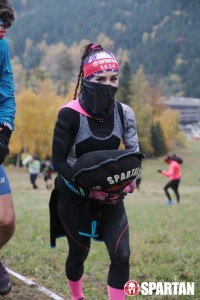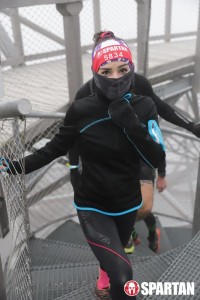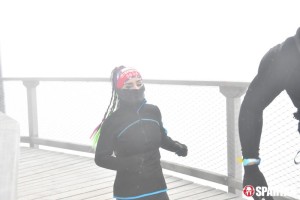 Tu nastalo moje trápenie a vedela som, že na dobrý výsledok môžem zabudnúť. Nohy som mala celé stuhnuté, fúkal nepríjemný vietor. Domnievala som sa, že tam v hmle hore je skrytá vyhliadka /chodník/ v korunách stromov. Lebo kam inam by sme sa tak strmo kráčali? Túto púť som  využila na oblečenie sa počas chôdze, "najedla som sa", vybrala som si gumených medvedíkov, aby som si osladila cestu. No veľmi som si ich neužila, boli primrznutí, tak som vyvíjala ešte aj úsilie v ústach. Silou vôle a pravidla z Warrior Ethosu – I will never quit, som vyšla až hore. Hore do tej zimy a ľadovej krajiny, kde nebolo vidno do diaľky nikde. Boli sme ako v jednom hustom oblaku, kde mi šľahali do tváre mini ihličky v podobe mrznúceho dažďa. V duchu som sa modlila, aby sa mi nezakrútilo v hlave, keď som sa stúpala hore krútiacimi sa schodmi až na vrchol chodníka. Nevedela som sa dočkať, kedy konečne zbehnem dole. Chodník v korunách stromov a prípadný krásny výhľad som si neužila. Za to, pri nasledujúcich prekážkach v nižších polohách som sa uhriala, lebo ma čakala séria angličákov. Nebola som so sebou spokojná. Vôbec. No sústredila som sa aspoň na príchod do cieľa bez ujmy na zdraví a vizualizovala som si x6 trifectu.  Prichádzam k memory recall, kde dostávam krásne povzbudzujúce slová od dobrovoľníčky, ktoré mi pomohli krásne zdolať strmý zbeh dole. Prichádzam k Tyrolian Traverse, kde vidím padať pretekára pred zazvonením priamo na chrbát. Len to zadunelo, neboli tam vôbec žiadne žinenky. Bolo to nepríjemné a ja takticky odchádzam do burpee zone. Viem, že už sa blížime k záveru, nechávam sa unášať svojim tempom, lebo viem, že zázraky sa konať už nebudú, ale zazvoniť by som si dnes ešte mohla. Preplazím sa popod ostnatý drôt hore kopcom, preskočím invert wall a čaká ma lano. Konečne som zazvonila. Nabudená zbieham dole a zvoním aj na z-wall. Prichádzam k monkey baru, čo sa na neho zvyčajne teším, no tentokrát sa čudujem. Prekážka je postavená tak, že nemám šancu sa ani natiahnuť na prvú tyč. Jednoducho postavená zjavne len pre vysokých ľudí. Nepáčilo sa mi to a nielen mne táto prekážka urobila problém, ale aj dievčatám o dosť vyšším ako ja. Prosto sa nedalo dočiahnuť na začiatočnú tyč. Bola som sklamaná. Idem si pre vedierko, kde urobím mini okruh, ponesiem jednu betónovú guľu, potiahnem vlečku s nákladom k sebe a naspäť na miesto a idem na poslednú prekážku. Multi rig – tyč, laná a kruhy. Túto kombináciu nemám rada, ale šla som si vyskúšať. Podo mnou bol betón a žinenky boli až pri lanách. Prešla som tyč a zasekla som sa. Teraz pred koncom. Dostala som strach z pádu na betón,  že zle dopadnem. Nemohla som sa pustiť tyče. Tak volám na dobrovoľníka, nech ma dá dole a on, že chcem odfotiť, tak ma cvakol. Ani neviem ako dlho som tam visela, no žinenka bola trošku mimo a hoci sa to niekomu nezdá, pre mňa je dopad celkom z výšky. Nebolo mi to jedno a tak som trochu spanikárila a v bezpečí som si už potom odskákala posledných 30 burpees z celkového počtu až 330. Teda v podstate odskákaný pretek ako má byť. Vnútorne nie som so sebou spokojná, lebo ak som už bola v Age group, chcela som dať čo najlepší výkon. Tento pretek mi to nevyšlo. Na budúcu sezónu sa pripravím lepšie a viac si oddýchnem a lepšie všetko naplánujem.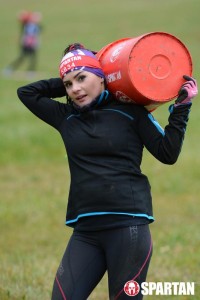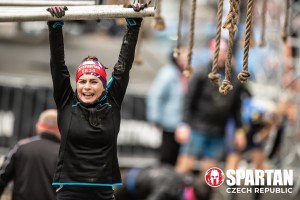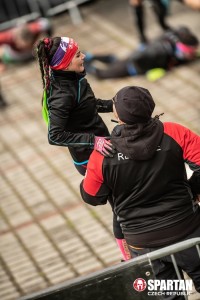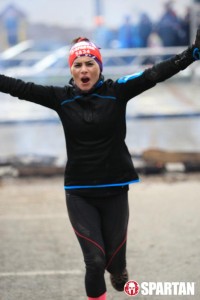 Dobrodružstvo na Dolnej Morave pokračovalo aj v nedeľu, kedy bol na programe pretek Super a Sprint. Síce som nemusela až tak zavčas rána vstávať, predsa len sa toho veľa nenaspalo. Ráno je mráz, ale opäť som si dala do botasiek výhrevné vankúšiky, tak som sa psychicky cítila lepšie, hoci konce prstov boli skrehnuté. Štartujem o 9:10 v prvej open vlne. Prichádzam na to, že mám citlivý členok. Hneď som si spomenula na ten včerajší zbeh, že som si ho musela udrieť resp. otlačiť pri tomto zliezaní dolu. Botasky som si nechala tie isté /moja chyba/ a pri každom kroku som cítila bolesť. Verila som však, že to pri behu nebudem už potom cítiť, a že tento super by som mohla celkom fajn zvládnuť. Okrem zimy som sa aj napriek včerajším angličákom cítila dobre. Už pri preliezaní prvej steny pred štartom som skonštatovala, že sa šmýka a hneď som si aj udrela koleno. Čo je hlavné, že stojím na štarte včas. Nastáva skoro podobný scenár ako v sobotu, len s tým rozdielom, že na chodník v korunách stromov sa nejde a teda nemusíme kráčať hore tým skvelým kopcom a o polovicu menej musím bežať. Hoci bolo mrazivo, svietilo nám slnko a nebola nikde hmla. Mohla som si aj užiť pohľady na okolitú krajinu a na nádhernú jesennú krajinu, ktorá hýrila neskutočne krásnymi farbami. Snáď som takúto krásnu jeseň asi ešte ani len nevidela. No predsa len sa opakuje scenár zo včera. Ballance, olympus sa skáče, no po dlhšom a nudnejšom bežeckom úseku /ešte že bola vôkol krásna príroda/ sa mi podarilo zvládnuť bendera, ktorý bol včera zmrznutý. Krásne bolo vidno aj chodník korunami stromov, slnko svietilo a jedna škoda bola, že sme tam teraz nebežali. No späť k tomu môjmu členku. Bolel ma od začiatku do konca. Moja radosť sa zmenila na trápenie ešte horšie ako včera. Človek by aj chcel, no zaskočila ma takáto brzda. Angličáky som robila len na jednej nohe, lebo akýkoľvek dotyk botasky o členok bolel. Jednoducho pretek so zaťatými zubami a aj s trochou nervami, lebo som zo seba chcela dať maximum, keď si už bežím pre svoju prvú x6 trifectu. Keďže sa plány menia, neostáva nič iné, len sa prispôsobiť a nastaviť hlavu na cieľ. Pri monkey bare opäť 30 a po odskákaní už len odchádzam krívajúci, aby som nemusela došliapať na pravú nohu. Postupne zvládam aj posledné prekážky, hoci som sa vliekla ako slimák. Viac som si to odchodila ako odbehla. Veľmi som bola sklamaná a tak som to chcela napraviť vo finishi. Sústredila som sa na posledné prekážky, lano, hercules, atlas carry. Prichádzam k multi rigu s tým, že teraz ho dám, lebo tam nie sú laná. Pozorne si prezerám, na ktorú tyč sa vyberiem. Skúmam to z každého uhla, aby som si dobre vybrala. Už aj tak sa nemám kde ponáhľať, tak prečo nie? Tak a rozhodla som sa a idem. Áno, podarilo sa mi to, len akosi zase neskáčem dole aj po zazvonení na zvonček. Dopad je vysoko a tak čakám na dobrovoľníka, ktorý ma zvesí v bezpečí dole. Trošku komické, ale hlavne v zdraví až do cieľa. Preskakujem oheň, dostávam modrú medailu na krk a idem si pre x6 multitrifectu. Dávam si ju na krk a môžem byť spokojná. Vo festivalke aj vo finishi je úžasná atmosféra. Trifecta weekend pre mňa skončil týmto Suprom. Na preteky Sprint som už nenastúpila, hoci počasie ma lákalo, ja som počúvla samú seba a zvolila som radšej obed. Na Sprinte by som už len kráčala a to ma nebaví. Akosi mi tento víkend nevyšla karta, ale aj tak môžem byť spokojná, lebo som prežila v zdraví, stretla som skvelých ľudí, spoločnosť mi tiež robili úžasní ľudia, tak na čo sa sťažovať. Jednoducho mám motiváciu prísť v ďalšej sezóne ešte silnejšia a odhodlanejšia.
 Jenny