Keby mi  niekto pred piatimi rokmi povedal, že sa mi zmení život, asi by som pochybovala. Áno, s pokojom v duši môžem povedať, že sa mi život zmenil. Bolo to vďaka chceniu, aby sa zmenil. Veľkú úlohu tu zohráva slovné spojenie "Spartan race", ktoré som počas piatich rokoch použila snáď milión krát. Stalo sa synonymom pohybu, pretekov, zážitkov, dobrodružstva, spoznávania nových ľudí, prekonávania prekážok, prekračovania hraníc, túžbou, odvahou, vášňou, životným štýlom…. súčasťou mňa. Ako som už v dávnejšie spomínala, toto zázračné slovné spojenie mi prvýkrát prihral do uška môj úžasný manžel. Kdesi vo vnútri to vo mne neskutočne silne zarezonovalo a rezonuje dodnes. Je množstvo vecí, udalostí, spomienok, ľudí, ktoré sa mi s týmto spájajú.
Päť rokov mojej cesty začalo v roku 2016. Päť krásnych, rýchlych, dobrodružných rokov, ktoré mi pomohli naučiť sa množstvo nových vecí. Nielen po fyzickej stránke, ale hlavne na vnútornej úrovni. Ako náhle sa mi začali meniť fyzické návyky, hlava sa upokojovala, triedila, vypúšťala negatívne emócie a ľudí, začala pracovať s inými myšlienkami. Lenže táto cesta sa mi neobjavila zo dňa na deň. Dôležité bolo ju nájsť a vykročiť na ňu aj za cenu nepohodlia. A čo je dôležité, nezísť z cesty, keď sa nám zdá nepriechodná. Aj keď prišli búrky, cesta bola stále dostupná, bolo len na mojom rozhodnutí, či sa vydám ďalej za hranice, kam som nedovidela. Päť rokov práce na sebe samej, na svojich víziách, na svojich cieľoch a opäť raz som začala snívať. Nielen snívať, ale aj uskutočňovať. Prvý sen, ktorý sa mi vytvoril v myšlienkach, a ktorý som si vizualizovala prišiel dva roky od prvého štartu. Sen, ktorý ma zaviedol až do gréckej Sparty, kde som sa utvrdila v tom, že vytrvalosť, tvrdá práca na sebe, sebadôvera a viera vo svoj sen, ma tam doviedli. Za cestou do Sparty sa skrýva moja túžba. Nič som nedostala zadarmo, nebolo to jednoduché. Začínala som malými krokmi, menšími úrovňami a záťažami.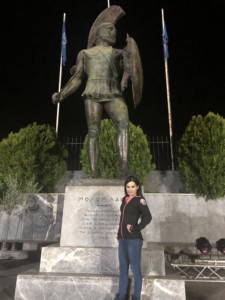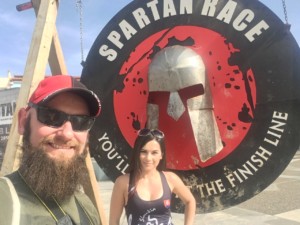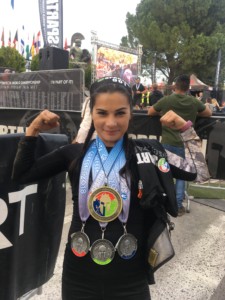 Síce som trošku preskočila roky, ale nedá mi nespomenúť aj to, že sa Spartan dostal až tak hlboko pod moju kožu, kedy som kvôli pretekom preložila svoje štátnice až na koniec leta 2017, aby som tak mohla dokončiť v pokoji svoje externé štúdium. Predtým však sme si zo Spartana urobili rodinné podujatie, výlet a zároveň udalosť. Všetci spoločne aj s našimi dievčatami sme v apríli roku 2017 absolvovali všetky preteky, teda okrem mojej mamky, ktorá stále odoláva. Postupne po absolvovaní prvej Trifecty na Slovensku v tom istom roku, sme sa s Vladkom odhodlali v roku 2018 na náš prvý Winter a neskôr na preteky vo Valči, kedy sme absolvovali v sobotu Super a v nedeľu Sprint. Neskôr sme dokončili ďalšiu Trifectu. Až potom, keď som postupne posúvala svoje hranice, som sa odhodlala viac snívať,  tak prišla Sparta, kde som dokončila svoju prvú x2 Trifectu v roku 2018.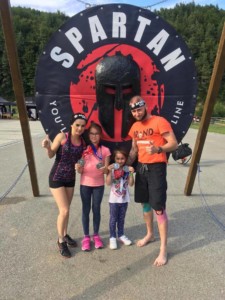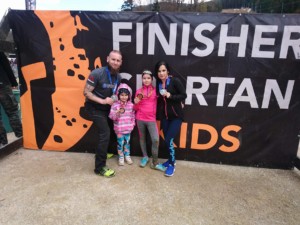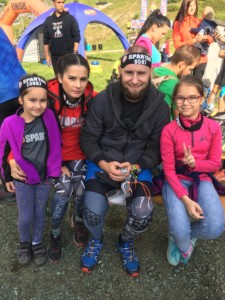 Rok 2019 bol zlomový rok, kedy sa udialo množstvo kúzelných vecí a udalostí a moje sny a túžby sa nedali zastaviť. Cítila som sa na vrchole svojich síl. Neskutočne som cítila ako napredujem jednak po fyzickej stránke a zároveň v osobnom živote. Prekážky na trati mi pomáhali prekonávať aj každodenné nástrahy a preteky mi pomáhali a zamestnávali moju myseľ smerom, ktorý ma perspektívu. Sama sebe som vymýšľala rôzne výzvy, ktoré ma nenechali stagnovať. Pre rok 2019 som sa stala aj ambasádorkou pre Spartan Race a zároveň som dostala príležitosť pracovať pre Spartana ako Spartan Kids koordinátorka na Slovensku. Naberala som jednak pretekárske skúsenosti a zručnosti, ale začala som sa podieľať aj na detských pretekoch. Zažila som množstvo krásnych, dojemných chvíľ v kidsh finishi. Pocit dať vlastnej dcére jej medaillu v cieli ma dojalo. Tie krásne momenty, tie krásne nevinné a úprimné tváre detí naplnené radosťou krásne hrejú pri srdci. Mala som možnosť pomáhať deťom na Spartan Special vo Valči, kde som si uvedomila, aké poklady v živote vlastním a ani jeden z nich nie je hmotný. Ako som popri práci na Spartan Kids a zároveň pri pretekoch bola šťastná, založila som si blog. Postupne som začala písať o svojich zážitkoch najprv na sociálnych sieťach na svojom profile, neskôr som sa odhodlala vytvoriť si vlastnú webovú stránku. Vďaka svojim príbehom a obsahu na internete súvisiacou výlučne so Spartanom,  som postúpila do súťaže o titul mama roka v kategórii influencerka. Nevyhrala som, no výhrou pre mňa bolo, že som zaujala svojim príbehom a dostala som príležitosť inšpirovať aj ostatné mamičky.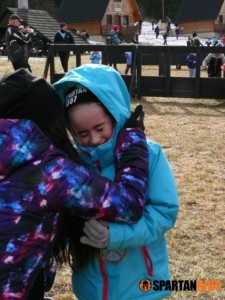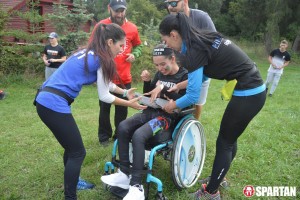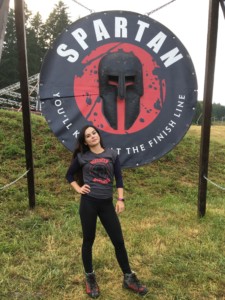 Rok 2019 priniesol splnenie nových cieľov, prekonanie samej seba, kde som padla až na dno fyzicky aj psychicky. Najprv som sa odvážila absolvovať moje prvé Spartan Extreme Endurance preteky v podobe H3X, ktoré sa konali vo Valči. Z plánovaných štyroch hodín som nakoniec zdolala 14,5 hodín a domov som odišla ako žiadny finisher, ale pravdou je, že toto podujatie vo mne zmenilo veľa a som vďačná za to pálivé slnko, ľadový pád do vody v noci, za neskutočné trápenie sa na kopci v horúčave, za ten pokoj, ktorý som v sebe neskôr našla. Naučila som si všímať maličkosti a detaily, ktoré vytvárajú môj pocit šťastia a harmónie. Bolo to tak silné, že som plakala od vďačnosti, týždeň po absolvovaní. Vstrebávali sa mi pocity a emócie doslova sa uložili v mojich bunkách. Po H3X som vedela, že dokážem oveľa viac, no však sama to musím chcieť a musím si veriť, aby sa stalo to kúzlo. S Vladkom sme sa odhodlali na naše prvé Ultra preteky, čo je najvyššia úroveň v rámci Spartan Race. 50 km behu cez prekážky, množstvo kopcov, prevýšenia. Do cieľa sme prišli po trinástich hodinách. Moment, kedy som preskočila oheň, patril víťazovi môjho srdca, môjmu otcovi, ktorý ma žiaľ už opustil a odišiel na miesto, odkiaľ na mňa dohliada z hora. Po Ultre som sa hecla a išla som aj na druhý deň bežať Super, lebo som sa cítila neskutočne nádherne, veď prečo nie, keď aj počasie bolo ideálne.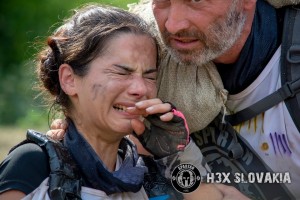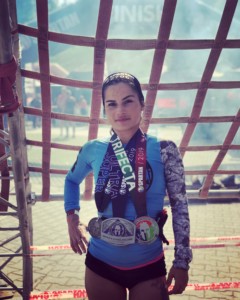 Kúzlo roka 2019 sa nekončí a ja sa vydávam na cestu za svojou absolútne neuveriteľnou a tak túžobne očakávanou x4 multitrifectou, ktorú som si vybojovala v Kazinczbarcike a užila som si ten pocit hneď po dobehnutí  sama, lebo práve vtedy sa konali aj Spartan Kids preteky a naše dievčatá tiež behali aj napriek daždivému jesennému počasiu. Tak som si ich hľadala vo festivalke, aby sme sa všetci mohli tešiť, radovať, objímať.  V roku 2020 sme čelili viacerým rôznym a zároveň nedobrovoľným výzvam, kedy sa nám tak trochu obrátil život naruby. Po absolvovaní Spartan Winter v Brne, svet na chvíľku stíchol, spomalil. S covidom sa spomalili aj moje projekty, ktoré som reálne už nemohla realizovať. Vtedy som si myslela, že to je len chvíľková záležitosť a ja som sa dodnes nevrátila k tomu, aby som mohla trénovať deti vo svojom mini priestore, do ktorého som investovala svoje mini úspory, len preto, aby som mohla živiť svoj sen. Na teraz je sen neúspešný, ale stále existuje. Vidím silu a budúcnosť v deťoch, ktoré sú veľmi vnímavé, úprimné a keď sa im človek venuje v správny čas, vedia si osvojiť správne návyky a dosiahnuť v živote neskutočné veci. Stíchli preteky a tak sa do popredia dostali virtuálne preteky. Samozrejme nemohla som chýbať pri ich odbehnutí. Mojím verným spoločníkom pri ich realizácii a ako nakopávač, keď som už nevládala, nebol nik iný ako môj kouč Vladko. Získala som tak tuším Trifecta weekend Poľsko, Rumunsko a zabehla som si aj Beast Pezinok a pridala som aj virtual spartan z Ameriky. Trošku zvláštne preteky, ale odmena v podobe virtuálnej medaily a certifikátu potešila, hoci banán som si musela dokúpiť.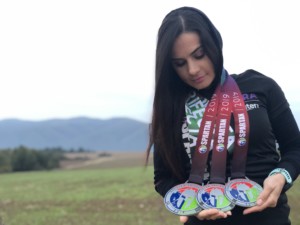 Rok po neúspešnom absolvovaní H3X využívam príležitosť na reparát v podobe HH4, ktoré sa konajú v Šachtičkách. V roku 2020 vôbec prvé podujatie, kedy sme niečo také mohli robiť. Rúška, rukavice, dezinfekcia boli ako povinná výbava a samozrejme dvoj metrové rozostupy. Prvýkrát úspešne končím ako HH finisher 4 hodiny. Som vďačná, šťastná a plakala som aj od dojatia. Mať na krku tú retiazku, bolo ako nájsť konečne chýbajúci kúsok puzzle. Úžasné bolo kričať Warrior Ethos a pritom držať zástavku Spartan Endurance. Pre mňa prekročenie nových dverí do sveta endurance, ktoré ma týmto začali lákať viac a viac. Každým úspechom som chcela posúvať svoje hranice a samú seba, aby som mohla prichádzať na nové veci a súvislosti týkajúce sa samej seba. Prišla som na to, že som postupne bola utváraná inými názormi, stereotypmi a vzorcami. Postupne som samú seba preprogramovala a dosahovala tak väčšiu vnútornú slobodu. Opäť raz som začínala nahliadať pod povrch samej seba a začala hľadať to pravé, samú seba. Mať sa rada, prijať sa, dôverovať si. Ak by som nemala preteky, možno by mi táto zmena trvala dlhšie, možno by nikdy neprišla.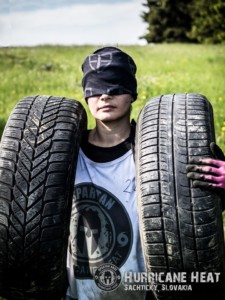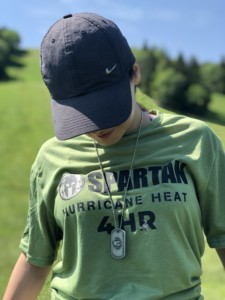 S radosťou som sa vrhala do nových a nových pretekov, stihla som dva Trifecta Weekendy a absolvovala som popri práci na Spartan Kids aj svoj ďalší HH v Pezinku a na záver sezóny som pridala aj H3X na Domaši, kde som opäť raz skončila ako úspešná finisherka po absolvovaní štyroch hodín. Ku koncu roka 2020 som mala na svojom konte napravené renomé po H3X vo Valči a mohla som doma obdivovať 3 svoje nové prírastky z kategórie Spartan Endurance. Vykročila som do svojho piateho spartanského roku. Nebol príliš nádherný, ale sprevádzali ho náročné prekážky, ktoré však nebolo treba len preskočiť alebo odskákať si ich v podobe 30 burpees, ale bolo potrebné ich vstrebať, prijať a pochopiť, aby sa cesta opäť objavila. Prekážky v reálnom, osobnom živote, sú tie najťažšie. Ale správny prístup k svetu a k sebe samému, nám umožňuje pozerať na nich z rôznych uhlov pohľadu a následne sa s nimi stotožniť, zaujať stanovisko a postupne nájsť spôsob ako ich prekonať, aby sme mohli napredovať a posunúť sa zas o krok vpred. Skoro šesť mesiacov som bola bez behu kvôli bolestiam v kolene. Nenútená pauza, ktorá ma spomalila práve v tom  čase, kedy mala. S odstupom času môžem povedať, že mi nič neutieklo, ba získala som oveľa viac.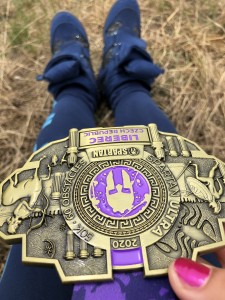 Tento rok som začínala endurance pretekami a opäť raz som zvládla HH4 hodiny vo Valči. Cítila som sa skvelo a nastal čas, kedy som sa začala rozbiehať a nechcela som sa nechať zastaviť. Túžila som posúvať seba, svoje limity a dôležité bolo, že som sa cítila odvážnejšia, chcela som čeliť výzvam a bola som pripravená na čokoľvek. Postupne som úspešne zvládla dva trifecta weekendy a bola som nabitá energiou ísť stále vpred. Mojím veľkým cieľom bolo zvládnuť HH 12 hodín. Stále som však čakala na ten správny moment. Moment, kedy som prvýkrát počula slovo "cryfecta". Cieľ HH 12 sa zmenil na cieľ vyskúšať a odhodlať sa na cryfectu. Neskutočné sa v septembri 2021 zmenilo na skutočné. Aj napriek tomu, že som mala nedobrovoľnú šesťmesačnú pauzu od behu, tréningy neboli realizované na sto percent, som sa postavila na štart. Jedinou mojou zbraňou bola moja túžba, moje pozitívne myšlienky, sebadôvera. Nemala som viac nič. Bola som len ja so sebou. Dokázala som sama sebe, že ak niečo veľmi chcem a čomu verím, to viem zvládnuť. Išla som za hranice pre mňa nepoznaného. Nespať viac ako 37 hodín? Áno, toho som sa obávala najviac, ja čo tak rada spím. Tento nekomfort bolo čosi kúzelné.  A tak sa od maličkých nesmelých krokov, kedy ma ledva bolo vidieť na štarte môjho prvého sprintu vo Vechci, som zablúdila až do sfér Spartan endurance. Postupne, krok za krokom. Po piatich rokoch pretekania sa mi práve na Lipne podarilo trafiť prvýkrát oštep, štartovala som v Age group a zdolala som úplne sama všetky prekážky, čo mi niekedy dá poriadne zabrať, ale ide to. Päť rokov života, kde Spartan race vyplnil moju ranu v srdci, keď nás predčasne opustil otec. Pomohol mi vysporiadať sa, pochopiť množstvo vecí aj na duchovnej úrovni.  Vďaka môjmu otcovi a jeho výchove v detstve som na pohyb nezanevrela. Verím, že pri každých pretekoch je pri mne a vedie ma. Nie je náhoda, že som zmenila celý svoj doterajší život. Chcela som sa venovať právu a riešiť spory ako mediátorka, no po čase som cítila, že ma to oveľa viac ťahá a láka práve k deťom a trénovaniu. Presne ako náš otec. Bol trénerom mladých zápasníkov a v jeho šľapajách teraz pokračuje môj brat, ktorý chcel žiť ďaleko od nás, ale privialo ho naspäť domov, kde prevzal štafetu a pokračuje tam, kde otec skončil. Možno práve strata je znamenie, je cesta, je možnosť, je nový život.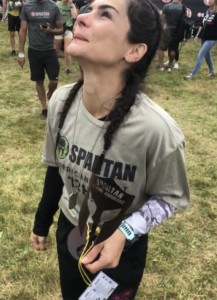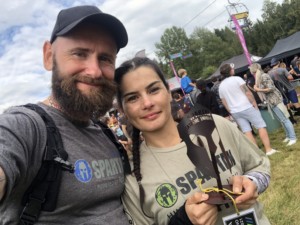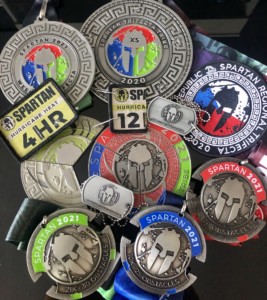 Jenny