A je to tu… po dlhšom zvažovaní, či sa zúčastniť tejto výnimočnej akcie som sa napokon rozhodla, že pôjdem opäť do toho. S rešpektom, s vedomím veľkej záťaže, zo zvedavosti, s túžbou, ale aj so strachom zo zlyhania.  Predtým však, som sa oboznámila s Gear listom /teda povinnou výbavou na tento event/. Nebolo mi všetko jedno, keď som v angličtine videla a počula "two bricks" – dve tehly a extra váha pre ženy – 15 kg. Od tohto momentu som zvažovala… ísť …neísť…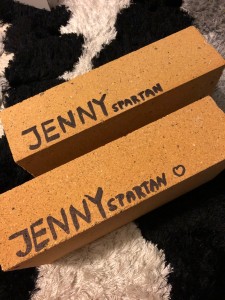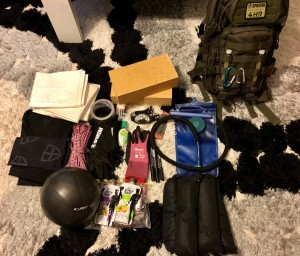 Ruksak z minulého H3X síce vydržal, ale určite by túto záťaž neprežil. Takže plán bol nový ruksak a možno aj väčší. Prvá prekážka nastala v obchode, kde som mala v pláne zabezpečiť si objemovo väčší ruksak z 20 l na 36 l. Bohužiaľ nie sú pre mňa, lebo popruhy sú dlhé a môj chrbát krátky. Hlavne, že ružový paracord sa mi podarilo zohnať. V hlave som mala myšlienky na HH12, že to by sa možno aj dalo zvládnuť. No v prvom rade bolo v zdraví a bez zranenia prežiť 4 hodiny. Hlavu som si pripravovala týždeň vopred. Sústredila som sa na záťaž, na tehly a vkladala svoju dôveru do nového vaku, nech to vydrží. Dva dni pred som mala chaos v hlave, lebo tá váha, keď som si ju doma skúšala bola zarážajúca 25 kg, bez dvoch litrov vody. No čo už… hovorím si, to dám, ale stále ma čosi pokúša, že pre istotu nech sa pripravím na 12HH. Pre istotu som sa prichystala. V piatok som už toho mnoho nenaspala, od rána som mala každodenný kolobeh a tuším sa mi podarilo "nasilu" zdriemnúť si na pol hodinku. Odchod bol naplánovaný na 23:30. Konečne Domaša, lokalita do ktorej to nemáme ďaleko. Aby som sa vyhla zadriemaniu, čo v konečnom dôsledku aj tak nemalo zmysel, som sa rozhodla, že si urobím farebné vlasy. Veď nech sa zabavím a nemyslím na to, čo má čaká. Tak som si zapletala do vlasov farebné pásiky od mojich dievčat. Chvalabohu sa počasie umúdrilo a nepršalo, ba dokonca sa aj oteplilo. Vyrážame… cesta nám naozaj rýchlo ubehla. Ani sa nenazdám a je to tu. Vyberám ten neskutočne ťažký vak z kufra a pomaly sa chystám na registráciu. Dovtedy, ale vidím známe tváre a teším sa, že sa vidíme opäť. Na registrácii nám povinne vážili ruksaky. Ten môj mal nakoniec 27,5 kg. Ufffff. Dostávam inštrukcie, že ak som ready mám pokračovať smerom dole.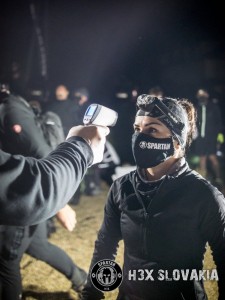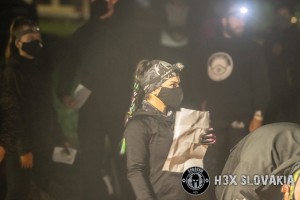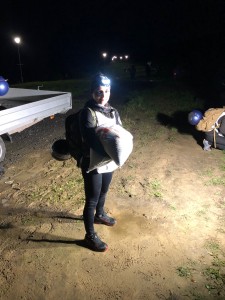 Dovtedy, ale kontrolujem ruksak a loptu, ktorá bola súčasťou výbavy, či ju mám dobre upevnenú na vaku. Postupujem dole, dostávam sandbag s červeným nápisom H3X a už sa plní vedro plné piesku a sype sa doň. Je to možno aj 15 -15 kg? Už teraz je to pre mňa výzva /mám aktuálne 43-44 kg svoju váhu/. Obväzujem sandbag ducktapom. Naložiť vak na môj chrbát je ďalšou výzvou. Ten, kto videl mohol aj počuť. Posediačky si nasadzujem vak, potom idem na štvornožky a snažím sa postaviť. No, ale sandbag je stále na zemi. Takže zohnúť sa poň tak, aby som sa nepreklopila dopredu. Dobre mám ho. Vladko mi robí jednu momentku. Zatiaľ ho mám v rukách, nakoľko na chrbát sa mi ho nechce dať. Tlačí mi to na žalúdok, ale zvládnem to. Mala som sa taký kúsoček premiestniť na miesto, kde sme čakali. Dostali sme inštrukcie postaviť sa do radu v rozostupoch, rúško na ústa, vak a sandbag pred nás a ticho čakať a opakovať si Warrior Ethos /ešte pri registrácii sme dostali kartičky na krk aj s našim BIB číslom – dnes som mala 6. a taktiež tam bol napísaný aj Warrior Ethos a na druhej strane nejaké disciplíny pre ďalšie kolá v rámci H3X/. Oficiálny začiatok akcie 02:00. Stojím v tichosti v rade asi niečo pred pol druhou. Obloha je neskutočne krásna. Mesiac plný a oblaky také rýchle. Ticho a krásna obloha a H3X. Kkedy by som také niečo zažila? Veď by som doma spala a tu som sa už zase raz presvedčila, že úžasné veci sa dejú práve za zónou komfortu v tých najnevšednejších chvíľach.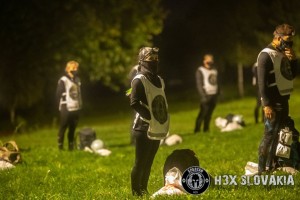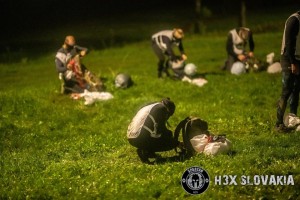 02:00 začíname. Privítali nás, oboznámili nás s pravidlami, s výzvami a podobne. Nasledovala rozcvička chvalabohu bez závaží, ktorá potešila, lebo pri tom státí už bolo trochu chladno. Každý cvik 30 opakovaní a potom zopakovanie celého Warrior Ethosu. Celkom zábava. Nasledovali medzinárodné výzvy v podobe výdrže v planku /poloha vzpor/ s vakom, výdrž v podrepe s vakom. Prvú výzvu som vydržala možno minútu? Netuším, ale týpek, čo vyhral držal tuším 15 minút, čo je neskutočné a obdivuhodné. Tí, ktorí spadli mali robiť kľuky. Ani neviem koľko som ich spravila, kým sa výzva skončila. To bol asi aj nový druh kľuku, ktorý som neskôr vykonávala. Druhá výzva bola o čosi lepšia – výdrž v podrepe aj s vakom, kde som už aj dlhšie vydržala a aj dosť drepov som si spravila, kým opäť výzva skončila /to bola alternatíva, lebo som prestala držať/. Tretia výzva bola udržať vak s vyrovnanými rukami nad hlavou. Tu som sa Kryptei opýtala, či by som mohla nejakú alternatívu, že rada by som, ale ja to ani len nad hlavou neudržím. Povedala. Budeš robiť burpees, ale keď ťa uvidím, že nerobíš, tak ideš von. Robila som ich naozaj poctivo, až kým mi nepovedala, že už nemusím, hoci ostatní už ich aj tak nerobili, lebo výzva skončila. Ja som sa ale riadila jej slovami, lebo človek nikdy nevie. Tak som si pekne zacvičila. Potom nasledovala kontrola povinnej výbavy, ale aby to nebolo jednoduché, tak si daj na oči šatku. Samozrejme tie tehly som mala problém vytiahnuť z vaku, ja som si ich ešte dala aj do tašky, aby som si nový vak nepoškodila. Len tu už nie som si istá, či gear list check bol pred alebo po tých medzinárodných výzvach. Pijem vodu a len tento povel som tajne dúfala, že nebude. Vybrať tehly a pripevniť na nohy. No čo už idem na to. Snáď som si to dobre pripevnila. Sem-tam mrknem očkom po kolegoch, kde a ako si to dávajú. Ako tak pozerám páska sa rýchlo míňa, tak nechávam to tak, veď nikdy neviem, kedy budem ešte potrebovať. Tu si fakt nie som ničím istá. Tehly sú na nohách, drží to zatiaľ. Ďalej vak aj sandbag na seba. Opäť posediačky aj s tehlami na nohách ho mám hore a ešte sandbag a k tomu ešte aj šatka na oči a rúško na ústa.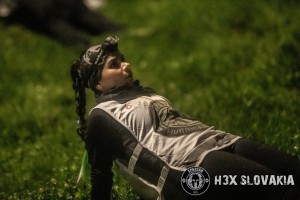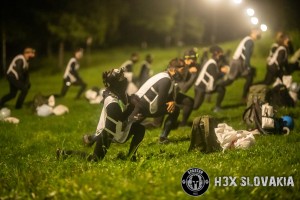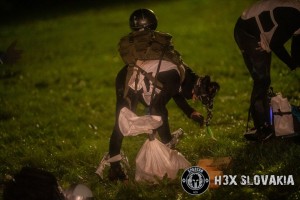 Predtým sa zvolil team líder. Mala som šťastie, stála som vedľa neho. Nasledoval menší výlet po okolí so zakrytými očami a s poriadnou váhovou náložou. Team líder dáva inštrukcie svojmu tímu, doľava, doprava, rovno a podobne. S tým sandbagom som bola zalomená, nič som nevidela, ale mala som oporu a dôveru v team lídrovi, ktorá ako jediný mal nezakryté oči. Tie tehly boli masaker. Začali sa mi posúvať a postupne uvoľňovať, až nakoniec pred koncom som si jednu odniesla v ruke na určené miesto. Neviem ako dlho to trvalo, no mňa to vyšťavilo a každým krokom som cítila bolesť na chrbte a na nohách. No zase na druhej strane, kedy by som mala možnosť si také niečo vyskúšať? Bola aj voda aj blato. Konečne som to vydržala, ako tím sme sa podržali, verili si a tak došli do cieľa aj so zakrytými očami. Moment, keď som si dala dole aj druhú tehlu bol skvelý, až taký, že keď som išla urobiť nový krok noha sa mi vznášala.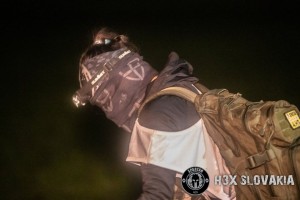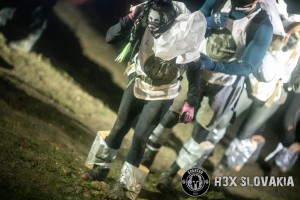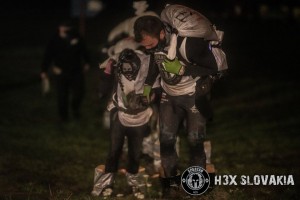 Nasleduje ďalšia tímová práca a tu sme sa zabavili s paracordom a urobili sme pavúčiu sieť, kde sme potom nášho team lídra Miloša držali dvihnutého. Celkom zaujímavá zábavka, najmä robenie uzlov v rukaviciach. Ani neviem ako dlho sme sa takto "hrali". Hlavne, že som nemusela mať na chrbte ten sandbag.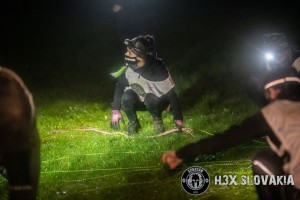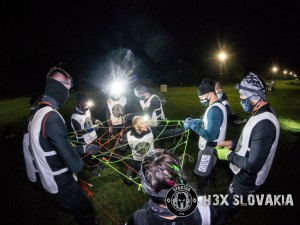 Na tú váhu vo vaku som si aj privykla aj techniku som si vycibrila nakladania a skladania zo z chrbta. Nasledujú ďalšie výzvy a hráme sa ďalej. Stojíme v kruhu dva metre od seba a pred nami sandbag a vak. Úloha je podávanie vriec a vakov bez pohnutia sa zo svojho miesta svojmu susedovi a tak dokolečka, až kým nedorazí náš vak a sandbag /to, či je to môj sandbag som vedela, lebo hneď na začiatku sme si mali na neho napísať naše bib číslo/. Všetko vyšlo. Posledná inštrukcia všetko na seba a poklusom za ostatnými. Poklusom som nemohla, tak kráčam ako najrýchlejšie mi to ide s tou záťažou. Je tu koniec. Počujem svoje meno, postavím sa do radu. Otázka. Kto chce teraz skončiť a nepokračovať, nech urobí krok vpred. Môj krok vpred je tam. Spokojne a šťastne. Hoci energiu som mala, ale ďalších 8 hodín s touto záťažou by som nedala. Veď v najlepšom treba prestať… Spokojne kráčam a odnášam si svoju odmenu a čo viac som si mohla priať?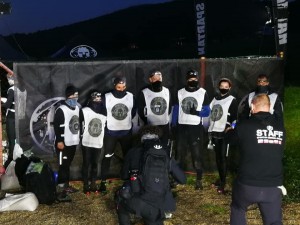 Ruksak mi vydržal, nič sa mi nestalo a úplne som bola spokojná s úsmevom na tvári. Videla som nádherné svitanie na úžasnom mieste v prítomnosti skvelých a obdivuhodných ľudí. Kým mali ostatní prestávku pred ďalším 8 hodinovým kolom, zašla som ich povzbudiť, popriať im šťastie. Vladko mi medzičasom odniesol vak, no mne sa akosi nechcelo odísť. Tá atmosféra tam, bola jednoducho taká skvelo bojovná a motivačná. Hoci som si v duchu priala ísť s nimi a bojovať, napokon som bola aj tak spokojná. Čo ak by som to opäť nezvládla a odišla domov bez ničoho? Triezvo som zhodnotila svoje fyzické sily a hmotnosť a odišla sa prezliecť do suchého a stihla som aj raňajky pri svitaní, kde bolo krásne počuť drill mastra, ako dáva povely ostatným. Trošku a možno trošku dlhšie som ich pozorovala, nemohla som odísť, jednoducho ma fascinoval celý ten priebeh, to ako vykonávajú cviky, všetko čo robia. Vedela som sa vžiť do ich kože, verila som im a priala im nech majú dostatok síl až do konca. No všetko sa raz končí aj môj pobyt na Domaši, lebo z auta už na mňa trúbi Vladko a bola som rada, že aspoň zastavil, aby som nemusela za jazdy naskakovať do auta. Ešte posledný pohľad na zvyšných bojovníkov a môže začať víkend. Absolvovaním týchto štyroch hodín sa mi podarilo v priebehu tejto sezóny nazbierať svoju "mini" endurance trifectu, z ktorej sa teším. Veď 3 krát po 4 hodiny to už je 12 hodín. Budúci rok sa mi možno podarí posunúť sa o pomyselný kopec opäť trošku bližšie k vrcholu.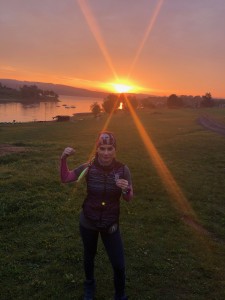 @jennyspartan