BOLESŤ JE DOČASNÁ, OKAMIH JE PRÍTOMNÝ A SPOMIENKY SÚ VEČNÉ…
Noc ubehla veľmi rýchlo. Spala som ako zarezaná snáď úplne bez pohybu. Ráno zazvonil budík, no oči sa nechceli rozlepiť. Vstať z postele bolo náročné, proste som sa nevedela postaviť. Chvíľu mi trvalo, kým som sa vystrela, len som sa pridržiavala steny, aby som nespadla. Vladko vedľa mňa ešte ležal. Čas ubiehal a ja som si musela pohnúť. Miestami ma chytala panika, nervy, stres, čo všetko dnes ešte musím spraviť. Ale je to len 12 hodín, ale spánku bolo málo. Cítim sa akoby som bola mierne opitá. Rýchlo sa obliekam, umývam a kontrolujem posledné veci a vyrážam do tmy na miesto registrácie. Už pri prvej 24ke sa mi rozbili jedny botasky, takže suché som už nemala žiadne. A najhoršie veru bolo obuť sa do mokrých botasiek ráno za tmy. Dnes som si už vzala na seba aj bundu, no bohužiaľ nie je nepremokavá. Ja trubka, keď som mala možnosť kúpiť si nepremokavú a čiernu a ešte aj s číslom na mňa, som sa na to vykašľala, veď nejako bolo, nejako bude a namýšľala som si, že počasie bude predsa ešte dnes výborné a nebude pršať. Do mokrých botasiek som si vložila výhrevné vankúšiky, ktoré som zohnala na poslednú chvíľu. Tie mi pomohli prekonať nepríjemný pocit. Pri registrácii nám všetkým berú hodinky. Ach jaj. Zase. V tme svietime čelovkami, nastúpení v rade a čakáme všetkých, kým sa zaregistrujú. Ja som vďačná za každý okamih, keď z neba neprší. Nie je mi zima, len som opäť raz zmätená, lebo nemám hodinky. Začíname kontrolou gear listu. Dnes mám šťastné číslo 13 a som v tíme A. Nasleduje upozornenie, že celý hurikán budeme bez hodiniek, ale čas si budeme počítať my sami ako tím. Ten, kto sa netrafí, robí angličáky. Začíname. Kráčame v jednej línii pospiatky hore po polystyrén a následne výpadmi dole. Opakujeme ešte raz, pričom počítame čas v mysli, každý člen v tíme po 5 minút a takto sa dookola striedame, až kým neuplynie podľa nás hodina. Zatiaľ je všetko ok. Neprší. Máme polystyrén a postupne si z neho vytvárame vlastné hodiny.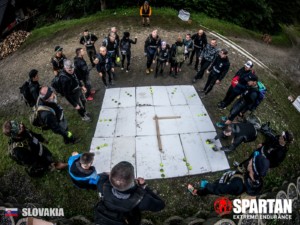 Predtým sme si však potiahli všetky jednu dominovú kocku a symbol z kocky sme si mali nakresliť na polystyrén, ktorý sme si tiež priniesli. Ja som si potiahla dominovú kocku bez označenia. Ostatným som aspoň pomohla vyfarbovať čierne bodky, ktoré sme si zhotovili pomocou rozrezaných tenisových loptičiek. Kým sme si zostavili hodiny a prichystali domino, zhotovili sme si ešte z dreveného trámu a dvoch tehiel /muži štyri tehly/ niečo podobné ako na 24ke, len to nemuselo visieť, ale pripevnili sme to s ducktapom.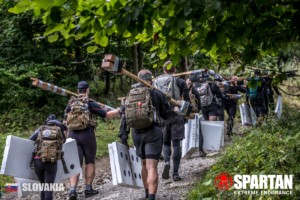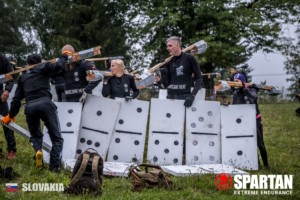 Pobrali sme sa hore na lúku, aby sme si tam zahrali domino. Vzali sme polystyrén a drevený trám a kráčali hore. Opäť som mala problém týmto kopcom. Nedarilo sa mi kráčať tak, akoby som si predstavovala a začala som zaostávať. Pomohli sme si nejako a došli na lúku, kde sme hrali. Po celý čas hry sme svoje bremeno mali na ramenách. Počas hrania začalo pršať a ja som zase zmokla. Kým sme skončili, začalo ma zase klepať. Dostala som šancu na to, aby som si dala termofóliu. Tím mi pomohol ma do toho zabaliť a mohli sme sa presunúť smerom dole. Terén bol nebezpečný a bolo treba dávať pozor na každý krok. Počasie sa nechcelo umúdriť a všade bolo blato, kamene a klzký terén. Ako tím sme si pomáhali a dávali pozor jeden na druhého. Pritom sme však nesmeli zabudnúť kto počíta čas a koľko asi uplynulo. V hlave sme mali len čas. Kým začala pracovať termofólia prešiel istý čas. Nakoniec som prišla na to, že ju nemám správne. Mala by som ju mať priamo na tele, ale pre nedostatok času hore, mi ju dali tam, kde som mala suché oblečenie, lebo vrchnú bundu som už mala mokrú. Nejako sme zišli dole. Čas sme viackrát netrafili a tak sme robili naše obľúbené angličáky. Ja som ich už robila tak divne, nohy mi nechceli spolupracovať, no pritom som veľkú únavu nepociťovala a cítila som dobre bdelá ani telo nebolelo, len bolo akési stuhnuté. Nasledovala ďalšia úloha a to vyangličákovať náš obľúbený kopec pod lanovkou a zbehnúť dole. Predtým však sme sa mohli napiť teplého čaju.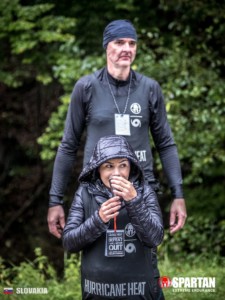 Sem tam som zahliadla aj Vladka. Bol tam poblízku, tak som bola rada. Ideme na to. Ten veľký kopec a plno času ešte pred nami. V duchu som si tak tipovala koľko je skutočne hodín a cítila som, že by mohol byť aj niečo pred obedom. Musela som skákať, aby som sa aj zohriala, čo sa veru podarilo a bola som chvíľu spokojná. Ale takto naobliekanej mi veru nebolo príliš príjemne. Našla som si svoju techniku a podarilo sa mi nakoniec vyskákať tento kopec 4krát, z čoho som bola milo prekvapená. Nevedeli sme dopredu, koľko toho musíme spraviť ani ako dlho to bude trvať. Ako som zišla po štvrtýkrát dole, nasledovala ďalšia úloha. Pomáhali sme v rámci charity challenge a ukladali sme drevá pre majiteľov, ktorí tam majú reštauráciu. Bolo to milé, aspoň sme sa stihli trošku porozprávať, drevo z ruky do ruky a práca išla naozaj príjemne. No po čase mi opäť začala byť zima. Veci pod termofóliou boli celé prepotené. Prestávka nebola. Zase som v hlave musela riešiť tú odpornú zimu a nekomfort, až kým neprišla prestávka a nedala som si fóliu na holé telo, s ktorou mi pomohla Edita. Takže namiesto jedla a pitia som riešila fóliu, aby som tak zase čakala v nekomforte na ďalšiu prestávku na wc a aby som čo to hodila do úst. Úprimne ani neviem, čo sme robili potom, v hlave som riešila čas. Koľko je tak asi hodín? Ale vedela som, že sme určite už viac ako za polovicou a možno nám ostáva tak tri hodiny. Neviem, čo sme robili medzitým, až do chvíle, keď sme hodinu vykonávali challenge s cvikmi. No vtedy prišla bolesť kolena.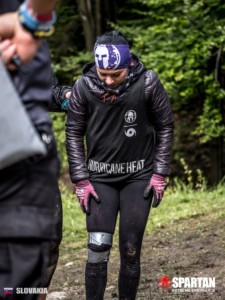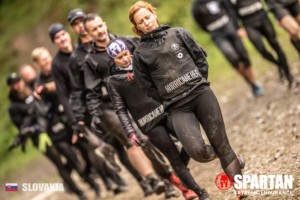 Nevedela som si dať rady. Pichalo ma a bolesť ma zrážala k zemi. S každým pohybom, či sme už robili jumping jacks, drepy, výpady, stáli na jednej nohe, som si priala, aby bolesť odišla. Už len kúsok a trifecta weekend bude za mnou. Koleno sa poriešilo a pokračovalo sa na predposlednú úlohu. Predtým však som ešte získala dva cenné body v individual challenge v leg hold a planku. Sme opäť vo dvojiciach, teraz som s Evkou. Koleno stále bolí, ale bojujem. Máme nosiť tehly na drevených trámoch hore a dole kopcom. Bolo to ťažké. Pršalo, koleno bolelo a koniec tu ešte stále nebol. Nakoniec sme to zvládli. Síce som Evku brzdila, ale premohla som sa a dokázali sme chodiť aj napriek tomu, že nám padali tehly.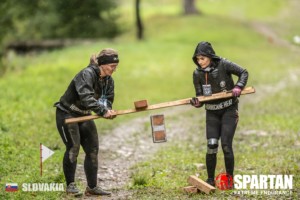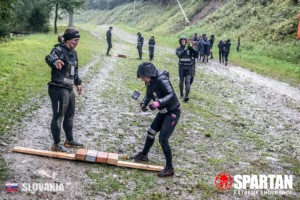 Konečne už chcem koniec. Posledná úloha bola vyskladať z tehiel spartanskú helmu. Povinnou výbavou bol aj alobal a tehly, ktoré mali tvoriť helmu, sme obalili do alobalu. Samozrejme všetci sme boli finisheri a tak sme si pri poslednej úlohe mohli vydýchnuť a pustiť sa hravo do nej. Zvládli sme to. Koleno som už neriešila, chcela som už naozajstný koniec a túžila som získať všetky tie vybojované tretinky v špeciálnom držiaku. Konečne sa dostal rad aj na mňa. Radosť, emócie, rôzne pocity. Momenty, ktoré mi ostanú navždy v hlave. Všetci krypteia mi čosi povedali, čo si nesmierne cením Diego, Pavel, Hajni, Števo, Nela, Kata… ďakujem za túto možnosť zúčastniť sa toho. Ďakujem za to, že ste ma nenechali padnúť. Ďakujem za to, že ste mi verili.
Hajni ďakujem Ti za to, že si ma dokopala až tak ďaleko. Pavel tebe za tie správne slová v správny okamih. Nely za povzbudenie na trati….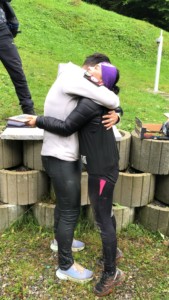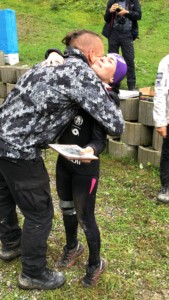 Ďakujem za druhú časť nášivky HH 12 hodín z minulého roku. Odchádzam ako víťaz sama nad sebou. V ruke držím všetko to, čo som mohla získať a dostala som jedinečnú šancu ako všetci, ktorí dokončili víkend, zazvoniť si na špeciálnej Spartanskej helme, čo sa robí len pri Agoge.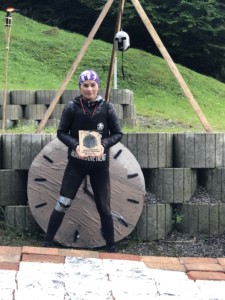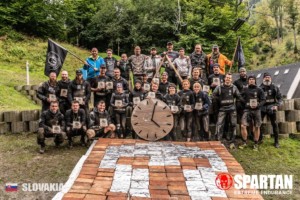 Výnimočný víkend, ktorého myšlienky spracovávam do dnešného dňa. Som na seba hrdá a verím, že to svoje dobrodružstvo, žiť život svojich snov sa mi podarí uskutočniť, práve preto, lebo je to moje rozhodnutie.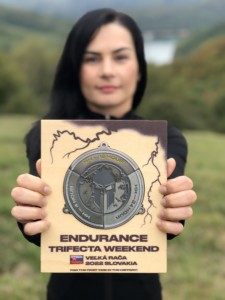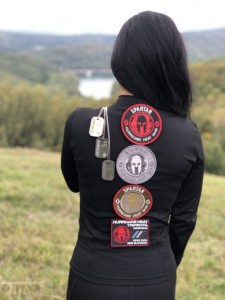 @jenny