Pre mňa dlho očakávaný víkend sa konečne stal realitou. Po minuloročnom fiasku s tým, že sa mi nepodarila ani len jedna trifecta, som si povedala, že ak to bude možné, zoberiem hneď prvý trifecta víkend, aby som bola spokojná. A prvý víkend sa naskytol 01.04-02.04.2023 v maďarskom Salgotarjáne. Čo sa týka tréningov, tak sa musím priznať nebolo to bohvie čo a hlavne s tým behom, lebo na ten mi akosi zostáva málo času. Alebo je to len výhovorka?
Je pravda, že v poslednom období som sa zameriavala na silovejšie tréningy s menším objemom kardia, čo sa odrazilo aj na mojej váhe, ale len minimálne, ale predsa. Veď svaly sú ťažšie ako tuk, tak žijem s tým pocitom. Ale naspäť ku Spartanovi. Nešlo len o preteky, ale aj o prekvapenie pre môjho podporovateľa a úžasného manžela Vladka. Keďže kvôli pracovnej vyťaženosti sme nemohli poriadne osláviť jeho narodeniny, rozhodla som sa, že Spartana rovno spojím aj s oslavou narodením v Budapešti. Ruka v ruke s prípravou na preteky som vymýšľala, bookovala a manažovala výlet do Budapešti, aby sa o tom môj drahý nedozvedel. Do Maďarska sme vyštartovali v sobotu skoro ráno a dúfali sme, že prídeme aspoň hodinu pred začiatkom pretekov. V sobotu som bežala Beast a Vladko ma čakal vo festivalke a mal nariadené ma vyčkávať v cieli cca o 4,5 hodiny. Takýto som si dávala časový limit. Nakoniec som dobehla s výsledkom 5 hodín a 9 minút. Tým, že som v tejto lokalite už bežala beast, myslela som si, že by odhad mohol byť správny. Vôbec som si nevedela spomenúť, aká bola trať a či tam vôbec bol nejaký obrovský kopec. No nevadí, dnes je dnes a idem znova. Klasický postup, registrácia, čelenka, čip na ruku, návšteva wc, skontrolovanie camelbagu a ide sa na to. Lúčime sa, zapínam hodinky a už som na ceste. V poslednej dobe pri písaní reportov z pretekov už neriešim aké boli prekážky, skôr si všímam iné veci. Všímam si moje reakcie na nepríjemnosti, reakcie zo zdolania prekážok, reakcie iných ľudí, prírodu a napríklad aj ticho a vôňu lesa. Dôležité pre mňa bolo dôjsť do cieľa v zdraví, lebo som mala pripravené prekvapenie. No ale k pretekom. Stručne povedané, preteky boli perfektné, po veľmi dlhej dobe som opäť raz mala zo seba skvelý pocit. Mapa ukazovala, že pôjde asi o 23,5 km dlhú trať. Opak bol pravdou. Ďakujem za hodinky, ktoré ukazovali koľko mám už odbehnuté, lebo bez nich by to bol nekonečný príbeh. Pretek bol dlhý, dynamický a k záveru sa so silovými prekážkami vrece roztrhlo.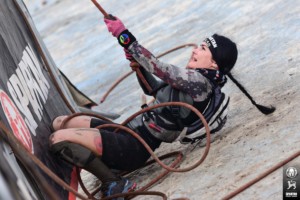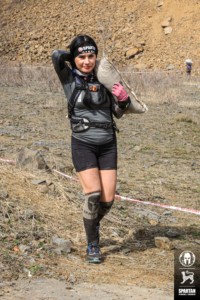 Mne to však nevadilo vôbec, konečne som dostala šancu makať a ukázať, že sila vo mne stále ostala. Čo sa týka behu, mohlo to byť lepšie, lebo stále sa to dá. Pri balančných prekážkach som "failovala" celý víkend. Rúčkovacie prekážky boli super a našťastie aj suché, chvalabohu, že nepršalo. Steny som preskakovala miestami ako polepetko, ale stále som sa prekotila na druhú stranu. Chcela som sa veľmi ponáhľať, no na približne 12 km a myslím, že vtedy začalo aj brodenie takým všelijakým potôčikom plného bahna, ma začalo pobolievať koleno presne tak isto ako v septembri vo Valči na Endurancetrifectaweekende. No nič, existovala len cesta vpred, hoci to bolo nepríjemné. Verila som si a chcela som čo najskôr dobehnúť, lebo som sa už tešila na ubytovanie v Budapešti, sprchu a nočnú plavbu loďou po Dunaji. Bolesť kolena ma veľmi spomalila, ale v hlave som si stále opakovala, hoci len by som mala kráčať, tak budem. Maďarsko prekvapilo super kopcom niekedy cca 5 km pred cieľom. Keďže pri stúpaní koleno nebolelo, tak zbeh bol náročnejší. Novinkou pretekov je teraz trestné bežecké kolo v prípade, ak sa prekážka nezdolá. No nie je to pri všetkých prekážkach, ale keď bola možnosť výberu trestného kola alebo angličákov, tak som si jednoznačne volila trestné kolo, lebo tých naskákaných angličákov už mám dosť, ale keď je to nevyhnutné rýchlo si ich odskáčem a pokračujem ďalej. Najviac času na beaste som stratila behom, keď ma bolelo koleno a boli tam naozaj výborné bežecké úseky.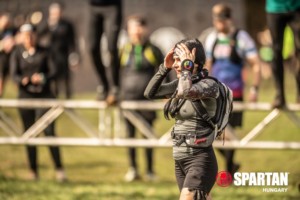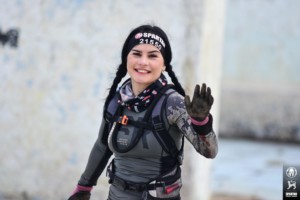 Mimochodom, oštep som zase netrafila. Takže stále musím pokračovať ďalej v pretekaní. Najzaujímavejší bol príchod k festivalke a k vyprázdnenému bazénu, kde boli už nasekané prekážky, ale aj Vladko, ktorý sa ma konečne dočkal. Ide sa na herculovu kladku, z wall, atlas carry, pulltractor…všetko prekážky, ktoré preveria vašu silu v rukách. Ostnatý drôt nepripomínal nepríjemnú prekážku, ale plazenie sa po pláži, ktoré nerobilo problém, skôr to pekne všetko spríjemnilo. Teda aspoň mne osobne, kde som zhodnotila, že aj Dubaj som tu mala. Ide sa na lano, pred ktorým mám stále rešpekt od pádu, ale mám aj sebadôveru a viem, že ruky budú držať na lane ako prilepené. Prichádzam k balance, kde neúspešne zdolávam prekážku a taktiež aj multirig, ktorý som neprešla, lebo som nedotiahla na kruh a tak jedinou možnosťou bolo pustiť sa a padnúť dole, odskákať si angličáky a potom s výskotom pribehnúť do cieľa s obrovským úsmevom na tvári a so skvelým pocitom, zo samej seba, že som to zvládla aj napriek nepohodliu a bolesti, ktorá ma sprevádzala počas pretekov. Za mňa to bol úžasný štart sezóny a vyrovnalo to krivku nespokojnosti so zimným pretekom v Prešove. Slniečko nám svietilo, endorfíny v správnej hladine a môžeme vyraziť za ďalším dobrodružstvom. Nové tričko, medaila na krku a hor sa do Budapešti.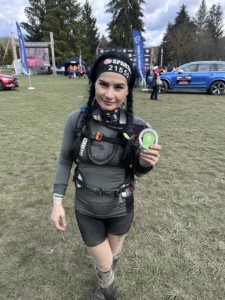 Po odbehnutých cca 27 kilometroch sa dávam do ďalšieho dresu a vyrážam smer centrum Budapešti, kde nás čaká plavba po Dunaji, návšteva reštaurácie a samozrejme prechádzka ako inak. Veď stále mi je málo, ale toto už bolo dosť. Koleno po pretekoch prestalo pobolievať, ale ku večeru dalo opäť o sebe vedieť. Nachodila som ešte ďalších 8 kilometrov a šla som spať s nádejou, že super a sprint tiež odbehnem.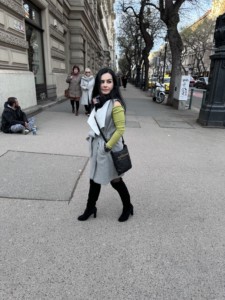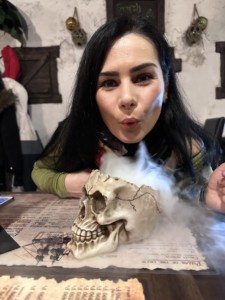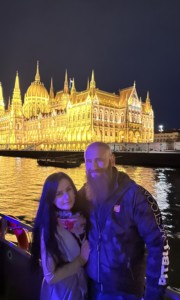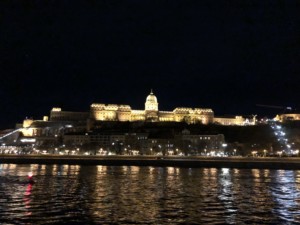 Ráno bolo presne také, aké sme si nenaplánovali. Tie moje výpočty stále prekvapia. Tentokrát sme boli na hrane, keď sme odparkovali auto mali sme asi desať minút ku štartu. Bežal so mnou aj Vladko, tak sme si rýchlo rozdelili úlohy. Ja som vybrala obálky s čipom a štartovacím číslom a on riešil bagcheck. Na wc sme ani nedorazili. Botasky som si nevymenila, ani som si ich nemala zašnúrované, hodinky som zapla, až po vyštartovaní vlny. Bolo to všetko na chlp, len tak tak. Také sme už raz zažili, takže sme to rýchlo rozbehali, teda rozchodili. Ja a moje koleno sme vyzerali ako chromá bežkyňa. Ani medikamenty nepomáhali a zahodila som už aj svetlé momenty na "skvelý" výsledný čas. Čo bolo super, bolo počasie a to, že bol pri mne Vladko. Viem, brzdila som ho, ale on aj tak ostal pri mne a podporoval ma. Bol to boj. Neužila som si preteky, tak ako som si priala. Zase mi nevyšli prekážky, ktoré som chcela, aby vyšli, no nevadí, dala som si trestné kolo. No na druhej strane som zvládla iné prekážky, ktoré mnohí nezvládli. Spoločný beh s Vladkom bol skvelý, miestami ma bolesť úplne obišla, ale väčšinou bola stále prítomná, ale beh lesom, keď sme si miestami mysleli, že už nie je nikto na trati, sme si výnimočne vo dvojici užili. Spoločne sme dobehli, Vladko šťastný, že už má "fajront" ma odprevadil aj na tretie preteky. Som si vravela, že tých cca 7 kilometrov už prinajhoršom aj odchodím.  Ako tak mi zabral flector, ale nebolo to ono. Veľmi som bola spomalená pri šľapaní hore a pri schádzaní dole, kedy koleno bolelo tak, že ma chcelo zastaviť. Samozrejme aj sprint som zvládla a tešila som sa. Vyhla som sa dažďu, hoci ku koncu pekne hrmelo. Som spokojná a šťastná, hoci ubolená, ale stálo mi to za to.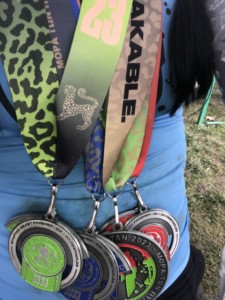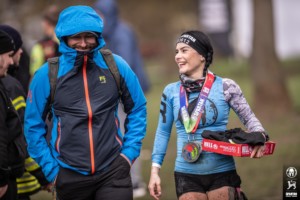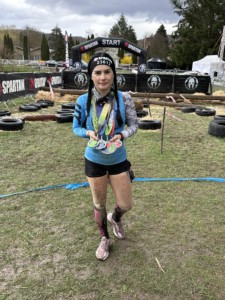 Stálo to za to, mať opäť raz ten úžasný pocit, že som niečo prekonala, zvládla a užila som si preteky, hoci nie bežecky, ale takým tým svojím štýlom. Nie som dokonalá, ani najsilnejšia, ani technika nič moc na olympuse, ale aj tak. Som rada, že som znova do toho šla a že mám doma opäť krásnu spomienku na preteky, ale aj na to, že som mohla Vladkovi dať darček k narodeninám v podobe peknej spomienky.
@jennyspartan