Päťmesačná pauza od pretekania a konečne som sa dočkala tohto dňa, kedy som mohla zase bežať. V poslednom období tých pretekov nebolo veľa, nakoľko som zvolila túto sezónu miernejšie tempo v tréningoch, ale to však neznamená, že som sa Spartana vzdala.
Tieto preteky vo Valčianskej doline boli konečne iné. Prvýkrát som tu bežala ešte v roku 2017, kedy sme si s manželom povedali, že to teda bola makačka. Medzitým som vo Valči mala možno pripravovať ako spartan staff detské preteky a samozrejme si vyskúšať aj Hurricane Heat. Zážitkov z Valče je mnoho a preto sa sem rada vraciam. Na preteky som zvyknutá aj čo sa týka prípravy a jedla. Dostatočne sa pred pretekmi najesť a poriadne, ak sa podarí, tak aj vyspať, nakoľko cestujeme z východu Slovenska a jedine, kde sme preteky mali blízko bol Prešov a Vechec. Takže klasické skoré ranné vstávanie a to ako sa mám obliecť určuje predpoveď počasia. Vyzerá to na daždivé počasie a tak po skúsenostiach volím staršie oblečenie, veď aj tak budem mokrá a špinavá, ale tá zima…no nič to, nejako to v hlave po ceste do Valčianskej doliny spracujem a na mieste len konštatujem, že to bude dobrý zážitok.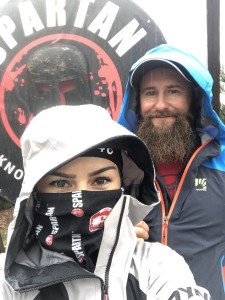 Prší prší prší, kráčam k registrácii a navštevujem dôležité miesto pred pretekmi, toaletu. Všetko je v poriadku, vonku je krásne daždivo, stretávam svojho spolužiaka zo strednej, Jožka a zisťujem, že bežíme v spoločnej vlne, tak sa teším. Snažím sa nemyslieť na padajúce kvapky, konečne si užívam rozcvičku pred pretekmi. Je mi už jedno, veď aj tak budem mokrá, tak si v rámci nej užívam aj 5 angličákov a na štart odchádzam už mierne zašpinená z mokrej zeme.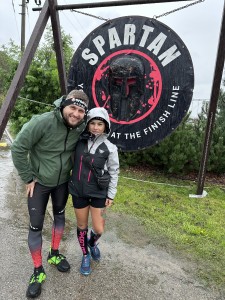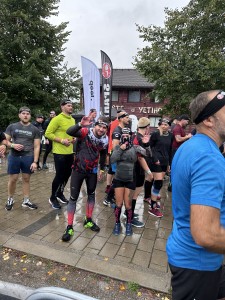 Konečne štartujem, ale hodiny sa nechceli zapnúť, tak si ich ešte pripravujem. Po vyštartovaní si spomínam na všetky tieto kopce, kedy som pripravovala detskú trať, spomínam na teplo, na vysokú trávu, na otravné slnko a aká som bola hladná. Po prvom kopci si spomínam, že tu som sa štverala hore kopcom pospiatky, kde som absolvovala aj prvý neúspešný Hurriacane Heat. Užívam si mláky a s radosťou do nich vstupujem a cítim sa ako dieťa plné radosti, že sa môže zmočiť, zašpiniť a s nadšením skáčem do bahennej diery – rolling mud. Tie kopce ma trošku potrápili, ale vedela som, čo čakať. Celé preteky sme sa doťahovali so spolužiakom Jožkom, aspoň som mala motiváciu, aby som nepoľavovala s tými mojími malými nohami. Vedela som, že rúčkovacie prekážky asi nedám, keďže je všetko mokré, ale taký Twister sa mi podaril do polovice, ale Monkey bar som spadla hneď. Nerobila som ani jeden angličák, nakoľko boli trestné kolá za nezvládnutie prekážky a bola možnosť zvoliť formu trestu. Zbeh dole kopcami bol suprový… šmykľavý, zablatený a na mieste bola vysoká ostražitosť, nakoľko hrozilo zošmyknutie sa dole kopcom na zadku. Ako to už u mňa býva, sú úseky, kedy si viem pekne nadbehnúť, držať tempo, obehnúť zopár pretekárov a potom príde ten okamih, kedy je potrebné sa popasovať so silovými prekážkami. Jednou z nich je aj tractor pull, kedy musíš k sebe pritiahnuť vrece s pieskom s hmotnosťou neznámou. Myslela som, že je klzký povrch, tak by to nemal byť problém, ale nakoniec som sa tam vytrápila a popri mne sa vystriedalo možno aj zo 20 ľudí, kým som k sebe pritiahla vrece. Takže čo som si nadbehla, tak musím znova dobehnúť a nie je čas na oddych. Takže nasleduje jedno trestné kolo za druhým, lebo ten oštep zase nevyšiel a taktiež aj multi rig. Tak sa ponáhľam raz hore raz dole, aby som dobehla Jožka, lebo stále sme sa po ceste míňali a stále ma záhadne vedel predbehnúť. Cítim, že sa blíži koniec, ale ostáva ešte plávanie, dunk wall a cesta potokom až do cieľa a aj lano. Na počudovanie sa beží úplne super, nie je mi zima, koleno je v poriadku a nemám žiadne kŕče, ale pre zmenu ma tlačil čip na ruke. Prichádzame k vodičke, naprv dunk wall, prekážka, ktorá je pre mňa tá najťažšia. Dnes k nej prichádzam tak, aby som dlho nerozmýšľala. Vchádzam do vody, vidím jedného pretekára, ktorý váha, tak mu navrhujem, aby sme to spravili naraz a odpočítame si to…raz dva tri…a sme na druhej strane. Rýchlo a bezbolestne plávam na breh a snažím sa nemyslieť na teplotu vody. Už len prejsť cez potok a ostnatý drôt klasicky na tom istom mieste ako vždy, vo vode. Tento som si užila, voda bola príjemná na počudovanie, ešte úsmev do fotoaparátu a rýchlo von. Ešte zopár krokov po vodičke a sme vonku, kde prechádzam cez cargo sieť a vidím už aj Vladka, ktorý mi stihol spraviť zopár foto momentiek. Tak aj jemu zapózujem a idem na lano.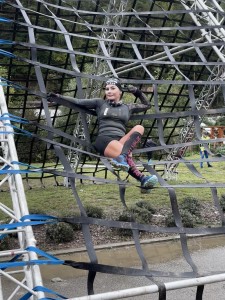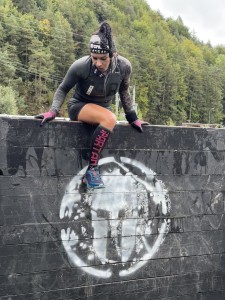 Prvý pokus nevyšiel. Chcela som to vzdať, veď odbehnem si trestné kolo a bude to. Ale dobrovoľník na lane ma povzbudil a ja som nabrala odvahu a šla do toho znova a zazvonila som si. Prichádzam k slip wall, ktorá ma tiež prekvapila, že som musela skúšať druhý pokus, nakoľko táto prekáža je pre mňa úplne bez problémov. Prichádzam konečne k poslednej stene. Dala mi zabrať, kým som sa cez ňu dostala a uvažujem, či tie steny sú vyššie, alebo ja nižšia? A sme doma, úspešne v cieli nesmel chýbať môj výskok a výskot a pri toľkej eufórii až v cieli s tričkom a pivom v ruke zisťujem, že som zabudla odovzdať čip. Všetko sa udialo na parádu, level spokojnosti prekročil moje očakávania, až taká špinavá nie som a nie je mi ani až taká veľká zima. Úloha znie, spraviť reprezentatívnu fotku, prezliecť sa a ísť domov. Úlohy splnené, len domov sme sa dostali až pár hodín po dobehnutí, lebo keď stretneš podobne spartansky naladených ľudí, je ťažké sa od nich odlúčiť, samozrejme, keď zaúraduje hlad, potom treba konať.
Výsledný čas tohto preteku 02:37:06, 58. miesto v kategórii Open ženy, mohlo to byť lepšie, ale nevadí mi to, lebo preteky som si užila, nešlo mi o čas, ale tú atmosféru a nové príjemné spomienky. Tento pretek a medailu som venovala svojmu otcovi, ktorý by mal opäť raz narodeniny, ale už ich oslavuje tam niekde hore. Ešte sa nestalo, aby som za tých sedem rokov mohla bežať spartan preteky práve dňa 24.09., a tak som tieto preteky venovala jemu, víťazovi môjho srdca, ktorému ďakujem za všetko, čo mi mohol dať, ukázať a naučiť ma.
"Jenny"