Po skoro deväťmesačnej pauze od konania pretekov /nepočítam H3X na Domaši, ktoré sa konalo v októbri minulého roka/ som sa konečne mohla dostaviť na miesto určenia. Hovorím si, veď tých deväť mesiacov je celkom dlhá doba, to aj bábo sa stihne narodiť. Po tej celej situácii, ktorá sa odohrávala celé to obdobie, to beriem ako mini zázrak a vidím festivalku a vlajky Spartan. Vycestovali sme už vo štvrtok poobede, aby som v piatok bola pripravená na prácu. Zo začiatku som bola taká rozladená, doma som uvažovala, čo a ako budem robiť, dlho som nebola v teréne a už vôbec nie s ľuďmi. Znervóznela som, no bol pri mne Vladko, tak sme sa navzájom dopĺňali pozitívnou energiou. Takže celá natešená, že som vo štvrtok mohla prísť do areálu v domnienke, že sa dobre vyspím a pripravím na piatok, mi samozrejme nevyšla. Noc bola jedna veľká katastrofa, a to som už vedela, že to asi nedospím. Svetlo nám svietilo priamo do postelí. Závesy boli nepraktické, ale vylepšila som ich duck tapom a bolo. Už sa nehýbali a boli lepšie ako predtým, ale žiadny ideál.  Čo sa mi podarilo zaspať, ktosi si prišiel s autom pod naše okno len tak zafajčiť cigaretku, porozprávať sa a s hlukom odišli preč. To bolo tuším niečo po polnoci. Vravím si, pekne to začína a ako som možno spomínala aj na inom mieste, ak sa mi začnú diať takéto veci, beriem to ako dobré znamenie. Juchú, prvá noc je za nami. Nikto z nás sa nevyspal, no máme krásny piatok pred nami. Privstala som si a so svojim verným spoločníkom Vladkom, si ideme ráno zabehať a rovno cez detskú trať. Obhliadnuť terén a zhodnotiť náročnosť. Mapu mám v mobile, ale ja som v tej orientácii miestami stratená a preto je stále pri mne Vladko. Prekážky už boli postavené a ja už som si predstavovala, ako tu deti pobežia a v duchu som si len myslela, aby sa nikomu nič nestalo, aby všetky dobehli v zdraví a hlavne, aby sa ani jedno z nich nestratilo. Prichádzame na miesto, kde vidím dospelácku prekážku Starway to Sparta. Je nádherná a celá iba pre mňa. Skúšam si, či som nezabudla na ňu vyliezť. Vladko mal z toho srandu a kameroval ma, hoci som o tom nevedela. Užila som si krásny moment hore na prekážke a slnko na mňa krásne svietilo a ja som načerpala energiu na celý deň. Samozrejme som si nezabudla zakričať spartanský pokrik AROO! Dolina mi ho vrátila a zišla som dole a pokračovali sme v misii – detská trasa. Bolo tuším osem hodín ráno a slnko už riadne pieklo, prišli sme upotení na izbu a dali sa dokopy. Musela som si viacero vecí urobiť v predstihu, aby som sa stihla pripraviť aj na Hurricane Heat, ktorý sa konal v sobotu skoro ráno. S dobrým pocitom, že sme si s Vladkom ako tak zatrénovali som sa pustila do mini papierovačiek, ktoré bolo potrebné si pripraviť, ale najdôležitejšia vec, ktorú treba pred pretekmi pripraviť, je značkovanie trasy /ktoré sa vykonáva po opáskovaní trate/, aby vedeli deti, kadiaľ majú bežať a hlavne kadiaľ beží konkrétna veková kategória. To sme robili celkom v pohode, lebo jednak sme mali tzv. "časový limit", ktorý nás poháňal /sami sme si dali cieľ – obed/ a zároveň sme sa nechceli upiecť na slnku. Takže ďalších pár kilometrov nám ukazuje na hodinkách, ale berieme to športovo, aspoň sme chodili. Jupí, dokončené. Postupne sa Valčianska dolina začala napĺňať. Postupne stretávam známych ľudí a som za to vďačná, lebo keď som si tak uvedomila, ani sme tu nemuseli byť, ale to len na mikro sekundu táto negatívna myšlienka. Po obede dávam pauzu Vladkovi aj Karolínke a ja dolaďujem detaily v kids finish. Kontrolujem, či je všetko na svojom mieste, či mám dovezené tričká, medaile, či sú tretinky pripojené k medailám a celkové usporiadanie v stane. Ale práca týmto nekončí, treba vytlačiť mapy kids trasy, doladiť rozcvičky, rabbitov a sweeprov /to sú chalani, ktorí bežia pred prvým dieťaťom a za posledným v danej štartovej vlne/ a toto vám poviem, mi zožerie niekedy viac nervov ako zvyčajne, ale neriešim, lebo verím stále, že všetko dopadne na výbornú. Musím porozmýšľať, koľko dobrovoľníkov a kedy potrebujem, čaká nás staff porada a ešte sa mi treba pripraviť na Hurricane Heat. Ja ani neviem, či som niečo vôbec jedla. Keď už som v centre diania, inak mi tam ubieha čas, miestami ani neviem, či som bola na toaletu. Dá sa však povedať, že som stihla, čo som mala v pláne a po porade som sa mohla konečne osprchovať a pripraviť sa na mini spánok, aby som potom o pol noci vstala a išla za novým dobrodružstvom na HH.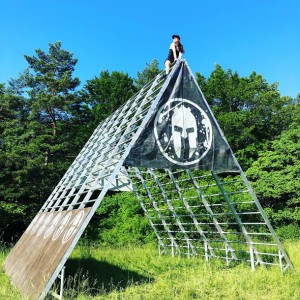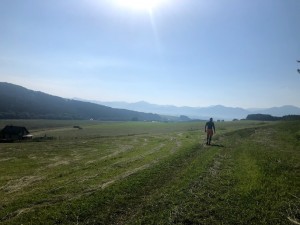 Nasleduje sobota a konečne sú tu preteky. Ja som šťastná, že som v zdraví dokončila HH a môžem ísť do "terénu". Prvá vlna detí beží o 12:05, dovtedy však sa musím uistiť, že je všetko v Kids finish v poriadku, či je všetko prichystané, kontrolujem tabuľky, kde sú rozpisy rozcvičiek, či sú všetky polia zaplnené. Som spokojná na sobotu máme vykryté, ale tie nedele sú trošku hektickejšie. Dolaďujeme detaily s dobrovoľníkmi. Toto tiež dá miestami zabrať a hladina stresu sa mierne zvýši, ale vďaka skvelému Spartan Staff tímu všetko vyriešime a doladíme detaily. Ani nestíham vnímať tú celú atmosféru pretekov a toľko ľudí, ktorí tam prišli. Hudba sa ozývala celou dolinou veď tam bol Pinky a celé to tam perfektne "búchalo". Už viac ako hodinu pred pretekmi si pripravujeme s dobrovoľníkmi Kids finish. Ešte pár inštrukcií, čo a ako robiť, ako nakladať s tričkami, ak je problém nejaký, ako ho riešiť a celý postup ozrejmiť, keď budú deti prichádzať do cieľa. Ani sa nenazdám a už mi vybehla prvá vlna najmenších detí, ktoré môžu bežať v sprievode rodičov. Táto vlna dá zabrať asi najviac, nakoľko je tam množstvo ľudí. Celý proces musí ísť plynulo, aby sa v cieľovej zóne dlho nezdržiavali. Čas som už prestala vnímať. Vnímam len časy detských pretekov a  sledujem aj mobil, v prípade, ak by čosi vyskočilo. Rozcvičky idú plynulo a všetko je tak, ako bolo dohodnuté vopred, takže sa môžem naplno venovať koordinácii vo finishi a prípadne riešim nejaké maličkosti, a aby som nezabudla, pomáham Karolíne s prípravou na jej preteky. Tentokrát ide prvýkrát v kategórii 10-12 ročných, čo značí aj dlhšiu vzdialenosť trate a obtiažnosť pri prekážkach. Uvoľňujem Vladka z práce vo finishi, aby bežal s Karolínou, teda v úzadí na tzv. špióna. Pomáham pri rozdávaní medailí na chvíľočku a stíham kontrolovať stav tričiek, medailí. Som nervózna, lebo Karolína je na trati. Síce mala menšiu výhodu, lebo si ju s nami mohla prejsť, takže si pamätala, kadiaľ trasa vedie. Vladko všetko natočil na mobil a Karolína do poslednej chvíle nevedela, že beží za ňou. Akurát dobiehala do cieľa, keď som rozdávala medaile. Vyberám mobil a robím jej momentku ako beží do finish line. Teším sa s ňou, lebo zvládla to nad moje očakávania. Čas si už nepamätám, ten nie je podstatný, ale hlavné je, že sa nevzdávala a celou traťou bežala. No a späť k práci. Pri kategórii 13-14 ročných a pri ďalších dvoch vlnách competitive boys a girls sa uisťujem, či je kamera zapnutá, nakoľko v týchto kategóriách je vyhodnotenie. Dôležité je zapísať správne deti do tabuľky, ktorá je podkladom pre kolegyňu, ktorá má na starosti vyhodnocovanie a vypisovanie diplomov. Ak všetky tabuľky vyplním, som spokojná a ešte spokojnejšia som, keď sú odovzdané. Samozrejme dobehnutím posledného dieťaťa do cieľového koridoru ešte nekončíme. Uvedomujem si, že sú skoro štyri hodiny poobede a ešte som nejedla, iba banán, ktorý som si dala za odmenu aj ja v cieli. Cítiť únavu, slnko nám všetkým dalo zabrať. Ani neviem čo sa deje vo festivalke. Postupne ľudí ubúda a trošku to utícha, no ja potrebujem pripraviť kids finish aj na nasledujúci deň. Aj dobrovoľníci sú unavení, no prácu som chcela mať čím skôr spravenú a až potom som sa mohla ísť najesť a oddýchnuť si aj po Hurricane Heat. Takže šup šup odpratať a roztriediť odpadky, urobiť poriadok s medailami a tričkami, aby sme mohli pokračovať zajtra. Zatvoríme stan a zajtra opäť. Tak ako som si plánovala oddýchnuť si, som neodolala stretnutiu so super holkami Evkou a Jankou. Tak hybaj ho do reštaurácie Humno na osviežujúce pivko a hajde ho spinkať. Až teraz môžem napísať, že až poslednú tretiu noc som ako tak spala, ale už som zaspávala na izbe pri tom, ako som do seba pchala vifonku, lebo sa neviem poriadne najesť, ale tak ma odstavila, že som pri poslednej lyžici zaspala a len ma Vladko opatrne prebral, aby som si šla ľahnúť do "svojej" postele. Očné viečka som mala ťažké, ale telo ma nebolelo, žiadne následky z Hurikánu.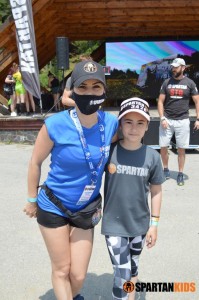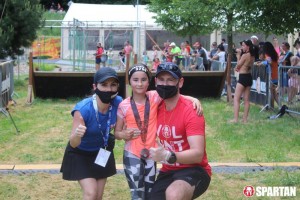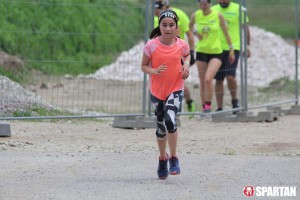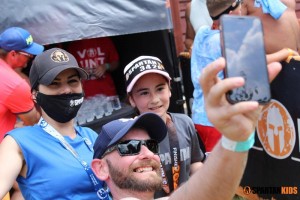 Jupí je tu nedeľa. Chýba mi tu Klaudia. Tá sa rozhodla, že s nami nepôjde, chápem, nie všetci sme nadšenci Spartana, ale verím, že časom sa opäť raz bude chcieť postaviť na štart. Opäť je krásny deň pred nami, pekne horúco, hudba nadupaná, festivalka plná, všade samí bežci, dresy, vyšportované telá. Trošku som sa ráno prešla, zistila som si výhľad z pódia, lebo dnes je to s rozcvičkami ťažšie, takže vypĺňam medzery a snažím sa ostať pokojná. No ešte pred pretekmi zisťujem, že pár rabbitov a sweeprov chýba, tak si beriem zoznam a snažím sa zopár ľudí osloviť a odchytiť vo festivalke, či by nám nevedeli pomôcť. Nakoniec samozrejme vyriešené, lebo sme super tím. Karolínka aj dnes beží, tak ešte doladiť jej registráciu a môžem pomaly zvyšovať pracovné tempo, no ešte som si stihla spraviť pár fotiek s Imrom, Nelou, Janou a Evkou, Marošom a Martinom, Tomášom a aj s Petrom Žiškom. V správnom čase na správnom mieste.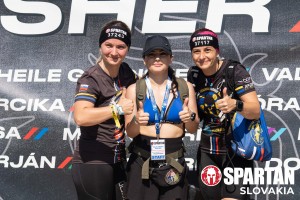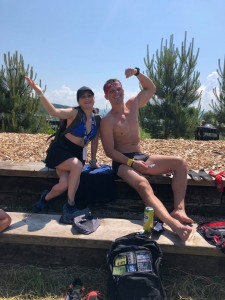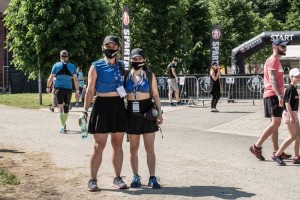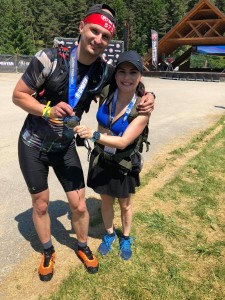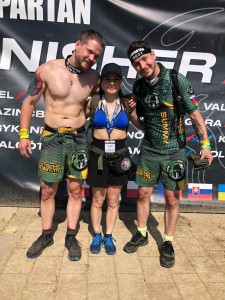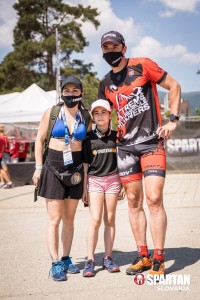 No prechádza po festivalke pomaly končí, dolaďujú sa detaily s dobrovoľníkmi, chystá sa stan na preteky, voda sa nalieva a banány, tričká a medaily pripravujú. Začínam prvou rozcvičkou pre najmenšie deti vo veku 4-6 rokov. Na pomoc mi prichádza aj Anička, takže mi to pomohla odľahčiť a vyštartovali sme s úsmevom na tvári.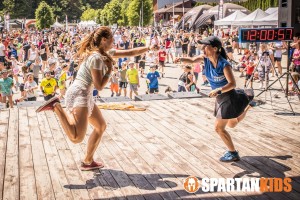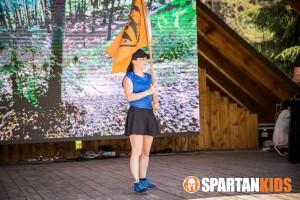 Úprimne stále mám neskutočný stres pred tým, ako mám vystúpiť na pódium a dávať rozcvičky, ale v momente keď Pinky pustí tú správnu melódiu, nechávam sa viesť svojim srdcom a nič neriešim. Užívam si ten pocit s deťmi.   A už len chodím hore-dole a nie som na jednom mieste. Pohybujem sa medzi pódiom, festivalkou a kids finishom. Raz rozcvička tu, raz rozcvička v štartovom koridore a hore-dole. A je tu rozcvička pre deti vo veku 10-12 rokov a tej štartovej vlne opäť beží Karolína. Beriem ju hore so sebou na pódium a dávame spolu rozcvičku pre deti. Skúsili sme aj päť burpees. Veď predsa sú už starší. Čo tu budem písať, samozrejme je to krásny moment, spomienka a tá možnosť, že som mohla dávať rozcvičku pre deti práve ja so svojou dcérou. O tom sa mi ani nikdy nesnívalo. Stále, keď som stála na rozcvičkách ja ako pretekárka, som túžila aspoň na chvíľu postaviť sa tam hore a zistiť, aký je to pocit. Ďakujem za to, že sa mi to podarilo. Takže Karolínka môže vyštartovať a ja sa pomaly chystám na tie staršie deti, kamera, zapisovanie do tabuliek a to isté, čo v sobotu. No nie všetky preteky majú hladký priebeh. Niekedy je potrebné zistiť skutočný stav z kamery, nakoľko deti nemajú čipy na rukách a čas sa im tým pádom nezaznamenáva. Treba sa uistiť a niekedy aj prijať zlyhanie. Ale nie je to zlyhanie, je to úspech, keď dobehne napr. chlapec na druhom mieste, ale nie, veď toho treba diskvalifikovať, ten neurobil správne prekážku a podobne, ale o tom potom. Čakám na posledné dievča z competitive vlny. Teším sa, že všetko prebehlo v poriadku, nikto sa nestratil a ani nezranil. Stresových chvíľ bolo viac pri najstaršej kategórii a pri competitive. Ideme upratať stať, odpad potriediť, spraviť inventúru tričiek a medailí, aby boli správne pripravené na nasledujúce preteky. Keďže bolo krásne počasie aj poobede a samozrejme po tom, čo bolo treba spraviť, som sa na chvíľu uniesla na trať. Najprv som sledovala ako preliezajú A-cargo sieť, čo bola už vo festivalke a chvíľu ľudí, ktorí sa brodili po vode. Vyšliapala som si aj na kopec, kde bol multi ring pozdraviť Mariku. Karolína bola so mnou a sledovali sme, ako sa robia angličáky. Ach, úplne som sa vedela vžiť do ich situácie. Po chvíľke som sa spustila dole, kde som chvíľu sledovala z-walls, ale pritiahlo ma to k ostatému drôtu vo vode, kde sme robili aj HH, ale nakoniec som si uvedomila, že síce som rada, že som tu a môžem to vidieť, vnútorne som si spôsobovala bolesť, nakoľko som túžila byť na ich mieste a keďže v dnešnej dobe nič nie je isté ani s pretekmi som nemohla vedieť, či vôbec pobežím. Ale myslím pozitívne a samozrejme sa teším na preteky v Maďarsku Kazincbarcike, kde si užijeme opäť rande vo dvojici.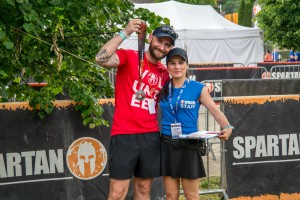 @jennyspartan